For a long time I wanted to visit the Southern Italian region of Apulia. It has an interesting mix of species from Central and Southern Europe, ancient and recent introductions from the Balkans and some endemics of the region. Moreover it is not visited too often by herpetologists which makes it a great place to explore. End of September Wouter mentioned he was thinking of going to Apulia for a small trip. Laura and I immediately invited ourselves in as we were longing to go abroad again. Together with herping buddies Jelmer and Jesse we had a team of five to try and find as many species as possible, which proved to be quite challenging due to the changeable autumn weather.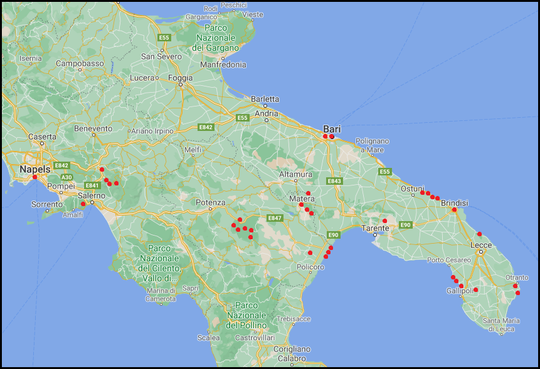 10th of October 2020
Wouter was the first to arrive in Naples where Jelmer, Laura and I also arrived in the afternoon. Jelmer and I  were a bit nervous about entering the country as the laws changed two days before departure. We were supposed to bring recent negative Covid-19 test results, something which turned out to be impossible to organize in the Netherlands. Laura managed to get one in Germany and Wouter and Jesse got it in Belgium, but after collecting the luggage it turned out we didn't need it at all. There was a security guard who gave a brief glimpse at a form stating we didn't cough recently and nudged us in the direction of the exit. The sun was shining and within no time we sat in our spacious rental minibus and drove towards the train station of Naples to collect Jesse. 
Our first stop was a forested area close to Salerno where we arrived shortly before sunset. We quickly found the first Italian Stream Frogs (Rana italica) and walked into a curious Red Fox (Vulpes vulpes). While flipping rocks next to the path I noticed there was a little salamander staring at me. We were all very happy with the first Southern Spectacled Salamander (Salamandrina terdigitata) of the trip. At Pizzeria 20 Dicembre we enjoyed our first of many pizzas and at Hotel Il Ciliegio we found a nice place to spend the night. 
11th of October 2020
Although the neighbouring dogs kept me awake for the major part of the night, it was time to move into the Picentini Mountains. We drove past vast chestnut plantations where people with leaf blowers kept the lawn tidy, so the vast numbers of tourists can spent their day collecting chestnuts. At the end of the road this ecological wasteland ended and the forest became more natural. It took awhile before the first herps showed up, but at an exposed hill side we flipped four more Southern Spectacled Salamanders and several Common Wall Lizards (Podarcis muralis breviceps). Wouter also found our only Yellow-bellied Toad (Bombina variegata pachypus) and our first Barred Grass Snake (Natrix helvetica sicula). Near a big waterfall I found our first Fire Salamander (Salamandra salamandra gigliolii) walking around in broad daylight, which was an omen to the salamander fest to come. The weather was chilly and overcast and shortly before sunset it also started to rain. Not before long we started seeing Fire Salamander everywhere and when we arrived back at the car the total tally was at 171 salamanders! Totally crazy to see such big numbers, and we were even lucky enough to watch several males engaged in combat, while Tawny Owls (Strix aluco) were hooting in the background. A fantastic day in the mountains was finished with a fantastic pizza and we fell asleep happily. With ear plugs.
12th of October 2020
After breakfast with (birthday!) cake we drove to the east and started our search in the Castelmezzano area. Near some amazing ruins we found species such as Western Green Lizard (Lacerta bilineata), Italian Wall Lizard (Podarcis siculus siculus), Common Toad (Bufo bufo) and Edible Frog (Pelophylax kl. esculentus) but it wasn't the flip fest we were hoping for. When the clouds moved in we explored some other places within the forest. We didn't see many species but we found what we came for, in two different waterbassins we found Italian Newt (Lissotriton italicus) larvae and adults. At the Spazio Natura we found a great place to spend the night and in Castelmezzano we tried to find some food. That turned out to be harder than we thought. Only one expensive restaurant was open, but they were willing to make some sandwiches for the "Covid-Germans" who had to wait outside for their food. The food itself was nothing special. What it lacked in taste it made up for in toughness. Probably they got it from a kinderboerderij where the goats refused to eat it. But we felt revived all the same, drove into the forest again and tried to reach a series of waterbassins. On the road we saw two Crested Porcupines (Hystrix cristata), a Beech Marten (Martes foina) and a Wild Boar (Sus scrofa) but the herping spot turned out to be rather quiet. A small Italian Newt and some unidentified water frogs was a rather meager yield. 
13th of October 2020
In the morning we went back to the ruins and found a bit more animals to be out and about, most notably several Moorish Geckos (Tarentola mauritanica) and Western Whip Snakes (Hierophis viridiflavus), but we were unable to catch them, nor find our desired Italian Aesculapian Snake. In the afternoon we drove towards Matera to hopefully find better conditions there. In an agricultural area we searched along a canal where there were many stones (and flatscreens) to turn. We quickly found Western Whip Snake, Barred Grass Snake, Smooth Snake (Coronella austriaca), Italian Wall Lizard, Western Green Lizard, Italian Crested Newt (Triturus carnifex) and some unidentified Water Frogs. The weather caught up with us however, and we did a feeble attempt to photograph the animals in an abandoned farmhouse. Outside it was bucketing down with thunder rolling in, and we were all dreaming of sunshine. In Matera we had a massive apartment, big enough to house a school class. After another amazing pizza in the city centre, we watched the Wildlife Photographer of the Year award from the sofa. Here we saw our herping buddy Frank Deschandol winning in the category invertebrate behaviour. Great to see your work being acknowledged Frank and congratulations again ;-) Sadly there wasn't any hot water to make use of the whirlpool but we still enjoyed a rather early night in bed.
14th of October 2020
The sun was out and we set out to explore a great gorge just outside Matera. Italian Wall Lizards and Western Green Lizards were abundant and we saw all three gecko species in the area: Moorish Gecko, Turkish Gecko and Kotschy's Gecko (Mediodactylus kotschyi). Wouter also able to catch a Western Whip Snake but Asp Vipers were nowhere to be seen. We drove towards the coast but also here we didn't have much luck and only found the more common species. The place looked promising and we decided to go back there the next morning. On the way to the car we found the first Green Toad (Bufotes viridis balearicus) which was a pure joy to photograph. I didn't loose my temper once! Of course we had pizza for dinner and at night checked out several places for amphibians. We only found more Green Toads though and had more fun photographing them.
15th of October 2020
We again had a sunny morning but sadly the strong wind wasn't in our favour. We searched a long time in the dunes and the coastal forest but only saw Italian Wall Lizard, Western Green Lizard, Western Whip Snake and Green Toads. A bit further inland we visited some agricultural areas where we again saw the same species, apart from a possible first Asp Viper, dissappearing between Delt Blue pottery sharts. However, the density of African Monarch (Danaus chrysippus) was crazy and I never saw so many of them in one place! Again the weather turned sour and we drove on further east in the hope to find better conditions. Close to Tarente we were in luck as the sun was out, at least shortly... At this promising site we found via Google Earth, we started to flip rocks and not even 20 metres from the car Jesse uncovered the little gem hiding underneath. Finally a small but beautiful Asp Viper (Vipera aspis hugyi) which was my only new taxon for 2020. Of course we couldn't believe our luck and started searching on. Although the site looked perfect we only found more of the common species. Sadly the rain followed us and soon we found ourselves hiding from the rain in an ancient ruin. Inside the ruin there were many snake tracks but we couldn't find their owners. A run back to the car and a slippery drive back to the paved road brought us on a flooded highway. At the Donnosanto Residence we found a small but cozy room to stay and after pizza we were in the field again. Luckily the rain stopped and brought out the animals. At several places we found many Edible Frogs, huuuuge Common Toads and several European Pond Terrapins (Emys orbicularis hellenica) including a freshly hatched individual still bearing the egg tooth. 
16th of October 2020
An early morning as we sadly had to drop Wouter of at Brindisi airport. Many man tears were shed but we tried to keep it together and continued herping. A first herping spot looked promising but after finding the common species we also noticed the shitload of security cameras so we decided to climb back over the fence and move on. We did get a good view of a Kingfisher (Alcedo atthis) foraging at this coastal swamp. South of Otranto we herped at the most easterly part of Italy and had a great view over the sea. At the cliffs we were searching for a species which stems from a probable recent introduction. Of course Italian Wall Lizards were all over the place but on a steep karstic outcrop I could find an adult and juvenile of Dalmatian Algyroides (Algyroides nigropunctatus). Strange to see them in such a barren habitat! Also Moorish Gecko and Western Whip Snake were seen here. In the afternoon we drove to Sant'Isidoro where we spent the whole afternoon flipping rocks. Again amazing to see such great habitat and find nothing but Italian Wall Lizard, Western Whip Snake, Turkish Gecko, Moorish Gecko and Green Toad. Still a beautiful place which must be very rewarding in springtime. Jesse and I had a refreshing dip in the lagune and shortly before sunset we explored some promising looking places for chameleons. After checking in at the B&B Le Vallonee we had a pizza and went out again. Chameleons are introduced in this area and despite being seemingly widespread in Apulia, we couldn't find a single individual. 
17th of October 2020
 For Jesse it was also time to leave and we dropped him off at the trainstation in Bari. Close by we visited a quarry where dinosaur footprints had been discovered in 1999. Sadly we couldn't visit the quarry but we did meet Marco, the guy who discovered the footprints and he was so kind as to show us the area and helped us with our search for Leopard Snake. Another amazing place, with great weather, lots of stuff to flip and nothing but Italian Wall Lizard, Moorish Gecko, Turkish Gecko and Western Whip Snake. Around noon it was also time to go for us and we drove towards the airport of Naples. A quick meal at the Golden Arches and before we knew it we were in the plane back to Amsterdam.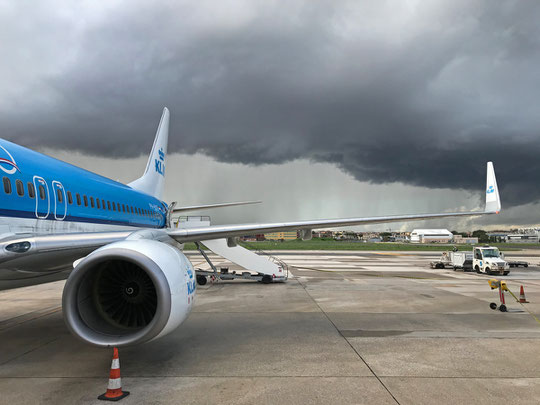 Epilogue
Southern Italy definitely boosts an amazing biodiversity and is underappreciated by many amphibian and reptile enthusiasts. The timing of our visit however wasn't the best for reptiles. The rain certainly brought out our amphibian desiderata but for reptiles it was a little late in the season. Of course we knew that before we went, but we were still hoping to find juvenile snakes under stones much like you would expect from visiting Spain or Greece in this time of year. Even finding some of the more common species such as Anguis veronensis, Chalcides chalcides, or Testudo hermanni proved to be challenging. Other then that it was sometimes hard to find any good habitat as the agricultural areas are vast and places which are fenced plentiful. But still, a revisit beckons to see those introduced chameleons in Apulia, more hugyi variation and to enjoy more of those amazing pizzas. We will be back!
Still haven't got enough? Check out Laura's Flickr album as well!
Species
Italian Newt (Lissotriton italicus)
Southern Spectacled Salamander (Salamandrina terdigitata)
Fire Salamander (Salamandra salamandra ssp. gigliolii)
Italian Crested Newt (Triturus carnifex)
Common Toad (Bufo bufo)
Green Toad (Bufotes viridis ssp. balearicus)
Yellow-bellied Toad (Bombina variegata ssp. pachypus)
Edible Frog (Pelophylax kl. esculentus)
Italian Stream Frog (Rana italica)
European Pond Terrapin (Emys orbicularis ssp. hellenica)
Moorish Gecko (Tarentola mauritanica)
Turkish Gecko (Hemidactylus turcicus)
Kotschy's Gecko (Mediodactylus kotschyi)
Dalmatian Algyroides (Algyroides nigropunctatus)
Western Green Lizard (Lacerta bilineata)
Common Wall Lizard (Podarcis muralis ssp. breviceps)
Italian Wall Lizard (Podarcis siculus ssp. campestris & siculus)
Smooth Snake (Coronella austriaca)
Western Whip Snake (Hierophis viridiflavus ssp. carbonarius)
Barred Grass Snake (Natrix helvetica ssp. sicula)
Asp Viper (Vipera aspis ssp. hugyi)