Back from the most amazing summer ever! A few days after my adventure to Peru (see my report: Tripreports outside EU -> 2013-7 Peru, Amazon) I flew to Munich and only shortly after, Laura and I flew together to Madrid.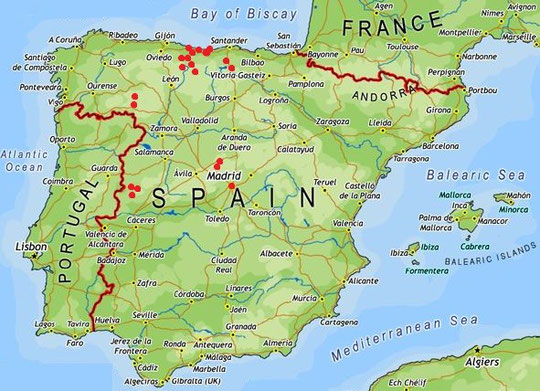 1 August 2013
Our early flight with Iberia Air was super, the seat was just made for me and I fit in perfectly. When we arrived our good friend Wouter Beukema was already awaiting team salamander and the adventure could begin! We picked up our rental car and made the wise decision to choose diesel over petrol with the many, many kilometres (n=2400) we would make during our trip. Our first stop was the picturesque town of Navacerrada on the foothills of the Sierra de Guadarrama. Wouter has a very nice appartment here and we could spend our nights in his place during our stay in this part of Spain. Thanks again mate!

After we dropped our luggage we drove on into the mountains. In the town of Puerto de Navacerrada we had lunch and went out to look for lizards. It wasn't for long untill we spotted the first Wall Lizards (Podarcis muralis) and the first Carpetane Rock Lizards (Iberolacerta cyreni). Searching for lizards in the heat while hiking uphill underneath a ski lift is a weird experience, the many horses roaming these sunbaked hills completed the surreal scene.
Then we decided to search along some remaining streams and waterbassins in the hope to find some firesalamanders, we weren't very lucky as most streams had run dry by now and the remaining ones didn't contain a single larva. We did see a couple of Schreiber's Green Lizard (Lacerta schreiberi) enjoying the radiating heat of an exposed rock and some more Wall Lizards and Rock Lizards.. Our last stop in day light was a lucky one as we found a nice waterbassin, with water, without salamanderlarvae but with many Carpetane Rock Lizards out and about.

After a nice dinner in Navacerrada (pizza is always a good idea) we went to some nearby quarries and found many Iberian Water Frogs (Pelophylax perezi), many larvae of both Southern Marbled Newt (Triturus pygmaeus) and Sharp-ribbed Newt (Pleurodeles waltl) and of the latter also a nice adult. Several Viperine Snakes (Natrix maura) were hunting and Wouter caught an animal which made us all very happy, a Grass Snake (Natrix natrix astreptophora).

2 August 2013
After a nice breakfast our herping day started at the same place where yesterday ended. This time we could add several Large Psammodromus (Psammodromus algirus) and Spiny-footed Lizards (Acanthodactylus erythrurus) to our specieslist. While hiking to the grass snake pond I heard a snake sliding through the dry shrubs and dove in to grab it, a large Montpellier Snake (Malpolon monspessulanus) managed to escape, shot towards Wouter and then back to me and luckily I managed to grab it for some pictures. A stunning find! We took some pictures of both this snake and the grass snake while several Bee-Eaters (Merops apiaster) and a Black Vulture (Aegypius monachus) soar overhead.
Wouter had an appointment at the field-station so had to spend the afternoon there. Laura and I were eager to find some salamanders and drove to Puerto de Navacerrada and hiked towards La Bola del Mundo while a strong and cold wind came in. Wouter gave us directions towards a valley along the slope of this impressive mountain and there we found a place secluded from the wind and even some flowing water, and yes, with Fire Salamander (Salamandra salamandra almanzoris) larvae this time! Flipping some rocks along the streambed delivered a single juvenile. While sun was setting Wouter joined us again, we searched some more only to find more salamander larvae and a single Rock Lizard and went back to the car. A single Ibex (Capra pyrenaica) made up for the mammal observations of this day. The day ended with a nice dinner, apple cider and a well deserved night rest.
3 August 2013
And then it was time to say goodbye to Wouter, after a breakfast in Navacerrada and giving him a lift to the fieldstation where he works it was time for Laura and me to head north. We thanked him again for his hospitality, photographed a Spanish Wall Lizard (Podarcis hispanicus) outside the fieldstation and we may have cried only a bit but we then hopped in our car and made some milage. Our destination for tonight was the extremely idyllic town of Orbaneja del Castillo. We arrived there at late afternoon and were a bit startled by the many tourists who were everywhere and the lack of a road leading up into the town itself where our hotel was based. Luckily we found a road leading up after all and Laura earned the title of best driver, maneuvering through the narrow alleys and up the steepest roads I've ever seen. The hotel was a sweet surprise, located at the best suitable location just outside the towns centre and with a mindblowing view. Around dusk all the tourists vanished and we had the lovely town almost to ourselves and had a splendid dinner with a view over the rocks in the shape of kissing camels.
4 August 2013
With pain in our hearts we had to leave this beautiful place but not before we did another nice stroll through the town and its surroundings, visiting the Cuevas del Agua and having lunch at our favourite restaurant. Many Griffon Vultures (Gyps fulvus) were soaring overhead as we devoured our Chorizo and Croquetas.
Then back in the car and on the road again, we went to a place I visited last year and this time we largely found the same species: many larvae and a couple of Marbled Newts (Triturus marmoratus), many larvae of Palmate Newt (Lissotriton helveticus), several adults of Alpine Newt (Ichthyosaura alpestris cyreni), few larvae of Fire Salamander and a single Water Frog. Laura got bored by so many salamanders and flipped some plates and found a pregnant Slow Worm (Anguis fragilis). A very tired Western Green Lizard (Lacerta bilineata) lay on the road.
Our hotel for tonight was based in the town of Santillana del Mar, a nice place but outside the city centre a little less "Rustico" than our previous stay.
5 August 2013
After a breakfast in the dungeon of our hotel we drove on to Puron, a place where some beautiful salamanders dwell in the woods. Laura was on fire and found two very different, but equally beautiful (and annoying to photograph) Fire Salamanders (Salamandra salamandra bernardezi). In some small puddles along the track we found larvae of Palmate Newt and Midwife Toad (Alytes obstetricans). Other finds here were Wall Lizard and Grass Frog (Rana temporaria). After we were both satisfied with our pictures the clouds started to vanish and the sun was a bit more eager to show itself so we decided to check out the coast. In the town of Cue we had a simple but nice lunch and drove on to Playa del Cue, a pity the high tide just came in but a stunning place nonetheless and the excellent place for our first swimming session after arrival in Spain!
Ribadesella was next on the schedule and we easily found our accomodation but we thought it would be nice to drive around three times around the city before checking in. A very nice appartment awaited us and we had an equally nice meal at one of the lively squares of the town.
6 August 2013
At another square in the town centre we found an excellent place for breakfast, a place we would come back to have a breakfast every morning during our stay in Ribadesella. Our prime destination for today was the lush green Tendi valley. I soon recognized the place where we found two Golden-striped Salamander (Chioglossa lusitanica) last year in spring so we parked the car and started lifting rocks. On forehand I was confident that we could find at least a single animal during summer but the opposite was true. A great many individuals were found, including larvae, juveniles, subadults and adults. Great! Also a single Common Toad (Bufo bufo) here. A bit further upstream Laura and I both found a nice Fire Salamander (Salamandra salamandra alfredschmidti).
Then it was time to leave and we headed towards the Picos de Europa for some nice scenery. Sadly the weather deteriorated dramatically but despite the dreadful conditions we were both awed by the utter beauty of this place. We had a nice Bocadillo for dinner, visited the Puente del Jaya in the pooring rain and went back to Ribadesella where we closed another day in paradise with a drink.
7 August 2013
The weather forecast for today was equally grim as the previous day but nonetheless we decided to head of into the Picos de Europa again. Eventough the sky was largely overcast in the morning and the mist was delimiting our sight, we didn't have much rain and had a great day driving around, doing small hikes here and there and enjoyed the breathtaking scenery. In the afternoon the sun came through and we enjoyed a nice hike through the Garganta del Cares finishing with an icecream in Cain. 
In the late afternoon we ended up at the Puente Romano and ultimately in Covadonga. Torrential rains pooring down made us very curious about the salamanderactivity in the woods this night. We decided to stay in Covadonga, had a fabulous diner with wild boar, mushrooms and chestnuts closing of with a hike through the woods. Despite some effort we were unable to find any salamanders, rather strange because in spring we were able to find a great many manders here. We did hear few Midwife Toads calling and saw a couple of Badgers (Meles meles). A group of Wild Boar (Sus scrofa) obviously wanted some revenge for eating their kin and scared us by coming very close and making unnerving sounds. But we survived. Barely.
8 August 2013
Let's go to the beautiful glacial lakes in the Picos de Europa! Well, again rain and busloads of tourists scared us of so we changed our plans. We did some grocery shopping in a strange place they call a Supermercado and when we came out our eyes hurt because the sun begun to shine. Let's go to the coast, the dinosaur coast! It took us some time but we managed to find several footprints of dinosaurs along the shoreline along with a nice array of tidal pond creatures. 
The afternoon we spend at the Playa del Cuevas, at first the sight of many bored, fat tourists gave us a wrong impression but we managed to find a smaller secluded beach we had all to ourselves and could enjoy this place and all its beauty. Surely one of the most tranquil places we've been and the best choice for an amazing afternoon. While the tide came in we had to leave and drove back to Ribadesella, while the sun was setting we had a little stroll through the town, had another fabulous dinner and went to bed a little too late. Again.
9 August 2013
Playa del Gulpiyuri was not as nice as we hoped it would be. Too many people and the tide was too low to see this splendid place in its true colours. The one that got away.... We drove to Playa del Borizo were despite the great many tourists, we managed again to find a secluded section of the beach for ourselves. The upcoming tide made us abandon our spot in the afternoon. With pain in our hearts we had to leave the beautiful northern coast of Spain and drove south again. We drove towards Quintana del Santillana and found our hotel even sooner than planned, one of those rare cases where a wrong placed coördinate made us happy. Dinner in the hotel and of to bed while few Midwife Toads were calling outside.
10 August 2013
A species that was a bit of a miss last year was the Leon Rock Lizard (Iberolacerta galani), last year we searched for it at Laguna de los Peces and found the place to be covered with snow and ice and only found a single juvenile at lower altitude. This year I was back and Laura and I searched the shores of the lake only finding thousands of Water Frogs. It was only next to the path were we saw several individuals of our desired Rock Lizard species. It was already very hot and the lizards weren't tempted to pose in the nicest positions but nonetheless I was happy to find several adult individuals of this beautiful species.
While driving down we searched for a nice place to have a swim and preferably avoid overcrowded places. With a view over almost the entire Lago de Sanabria we spotted a place that looked promising and we drove down the mountain towards a refreshing dip. The place we spotted from the mountain was easily found and even nicer than we thought so we spend our afternoon here and indeed had the place to ourselves for some hours untill a loud and rude Spanish family disrupted the peace. We decided to let them be and went of to search for lizards and found Spanish Wall Lizard, three Ocellated Lizards (Timon lepidus) and several Schreiber's Green Lizards. 
Late in the evening we arrived in the town of El Cabaco, dropped our luggage in the room of the hotel, had a simple meal and went to bed but not before admiring the most insane star sky I've ever seen.
11 August 2013
An early start today. Around 6 we had to get up and someone forgot how badly he wanted to see the lizard species which was on the menu for today. After a minor delay we were in the car (with the breakfast we packed the evening before) and drove to the top of the Peña de Francia. Ibex were around in good numbers and were entertaining to watch while we ate our breakfast and while the sun was rising. It grew hot rather fast and despite putting some serious effort in finding this rare and secretive lizard none were found. A tad disappointed we headed to lower elevations and I spotted some nice habitat along the road. Well just a quick stop then... A wise decision indeed, soon I spotted three inconspicuous, shy lizards. I managed to take a lousy picture but good enough to identify them as Batuecan Rock Lizards (Iberolacerta martinezricai). Nice!
After this amazing find we drove down the mountain and into the scorching hot planes around La Alberca. A small hike towards Laguna de San Marcos allowed us to see several Large Psammodromus, Ocellated Lizards, a Viperine Snake, Western Three-toed Skink (Chalcides striatus), larvae of Fire Salamander, Iberian Stream Frog (Rana iberica) and many Water Frogs. 
In the meanwhile, the temperature rose to 48 degrees Celsius and even in the shade it wasn't really comfortable anymore. Having a swim somewhere was the only sensible thing to do and again we managed to find a great place for the two of us, in the shade and next to the Rio Alagon. Foraging groups of Azure-winged Magpie (Cyanopica cyanus) brightened the scene. 
12 August 2013
After breakfast it was time to head for the airport and fly to Amsterdam together. The flight back with Europe Air was one with a rough take off and a lot of turbulence but we were so bedazzled after such an amazing holiday in Spain that it didn't matter!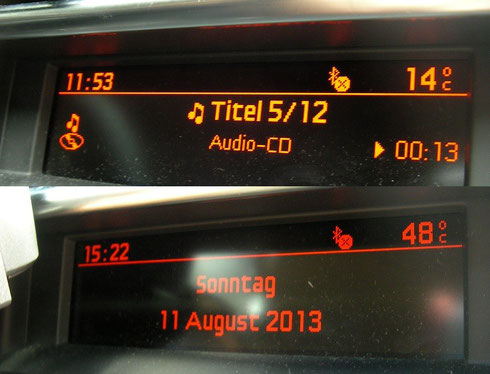 Species
Golden-striped Salamander (Chioglossa lusitanica)
Palmate Newt (Lissotriton helveticus) larvae
Alpine Newt (Ichthyosaura alpestris cyreni)
Fire Salamander (Salamandra salamandra ssp. alfredschmidti, almanzoris and bernardezi)
Marbled Newt (Triturus marmoratus)
Southern Marbled Newt (Triturus pygmaeus) larvae

Common Midwife Toad (Alytes obstetricans) calling
Common Toad (Bufo bufo)
Iberian Stream Frog (Rana iberica)
Grass Frog (Rana temporaria)
Iberian Water Frog (Pelophylax perezi)
Slow Worm (Anguis fragilis)
Western Three-toed Skink (Chalcides striatus)
Carpetane Rock Lizard (Iberolacerta cyreni)
Leon Rock Lizard (Iberolacerta galani)
Batuecan Rock Lizard (Iberolacerta martinezricai)
Western Green Lizard (Lacerta bilineata)
Schreiber's Green Lizard (Lacerta schreiberi)
Common Wall Lizard (Podarcis muralis)
Iberian Wall Lizard (Podarcis hispanicus) - morphotype 1B
Large Psammodromus (Psammodromus algirus)
Ocellated Lizard (Timon lepidus)
Viperine Snake (Natrix maura)
Grass Snake (Natrix natrix astreptophora)
Western Montpellier Snake (Malpolon monspessulanus) 

Many thanks to Wouter Beukema for his help.