A small trip visiting as many new places as familiar ones, meeting up with relatively new faces as well as several friends along the way. Together with Dutch herping amigos Rick Bierman and Thomas Blauwbroek I undertook a small trip to Austria, Slovenia and Northern Italy. In Slovenia we visited Teja Požar and Frank Deschandol and in Italy we met up with Wouter Beukema and Monne Tuinhout who are currently working on a highly interesting project about salamanders. A highly diverse trip in both people composition as well as landscapes, species and weather circumstances. While the first two countries spoiled us with plenty of sun and ideal swimming conditions - as soon as we crossed the border to Italy heaven came down on us and torrential rain made things a little more complicated. In any case, the team was eager, focussed and highly motivated and we were up for hardcore herping.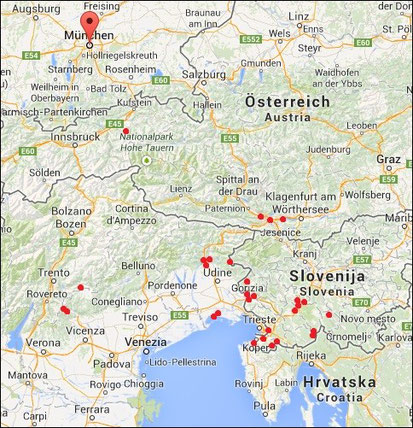 7th of August 2014
On a particularly sunny afternoon I was in the luxurious position to be waiting at home to be picked up for a herp trip. A WhatsApp message announced the arrival of Rick and Thomas and I went down, stepped in the car and we drove of. Soon we already saw there was no power in this car and it slowed down our herping oppurtunities. We had to get rid of the car somewhere... but where? We kept our eyes open for any chance coming by.
Our aim for the afternoon was to reach Carinthia, a region rich in species. Along the road we drove past a place Rick visited the week before and where he found a juvenile Aesculapian Snake. We calculated the time and took our chances to do this little detour. A fine decision as we could soon find no less than three beautiful Aesculapian Snakes (Zamenis longissimus), a single Grass Snake (Natrix natrix) and nine Slow Worms (Anguis fragilis).
In the late afternoon we arrived at a rocky outcrop still catching full sunlight. Soon we found the first few juvenile Wall Lizards (Podarcis muralis) and I could find two juvenile Nose-horned Vipers (Vipera ammodytes). We found a lovely campsite nearby, enjoyed some fabulous Austrian dishes, added a very nice phrase to our vocabulary (a line that one of our hedonistic countrymen tried on a waitress) and went for some late night swimming at a nearby lake. It was so cold we even found an iceberg! Climbing the thing was more difficult so we had to come back later...
8th of August 2014
After stirring campinglife a little bit at the campingshop we ate our "brötchen" in the car and went on into the hills. At a rocky wall next to a winding road and in direct vicinity of a fast flowing river we found lots of Horvath's Rock Lizards (Iberolacerta horvathi) running around. I knew this place from the Eurotour but it was still amazing to see how many lizards there were!
While temperatures rose it was time for some swimming and climb the Iceberg. Many other people also discovered the huge thing but I did a crazy stunt jumping from the top with my legs up. Everybody was frightened seeing how dangerous it was and we had the thing to ourselves.
A long drive towards Southern Slovenia followed. The SatNav found a road leading directly to our desired coordinate. Great! Well, it was rather a grassy meadow which was okay to drive but we could venture straight from the car into an underground cavern. Water level was low allowing us to explore much of the interiour of the cave and within second we saw what we came for: Olms (Proteus anguinus) are amongst the most bizarre amphibians of Europe (if not most bizarre animal) and were readily encountered in big numbers (n=25). Most individuals were subadult so it took two men going in the freezing water topless with a big dipping net in hand. What an experience to see these stunning and archaic animals again - and in these numbers!
In the late afternoon we drove on to meet up with team Lovebird. It was way too long ago since I met up with Frank and Teja and to see them together was great. I am so happy for you guys! After a beer and meeting all Teja's animals we went for pizza and herping in the surroundings with not much herp activity going on. Common Toad (Bufo bufo), Agile Frog (Rana dalmatina) and our first Alpine Salamander (Salamandra atra) crossed our paths next to a shy Dormouse (Glis glis). We enjoyed the souvenirs I brought from Holland and went to bed afterwards.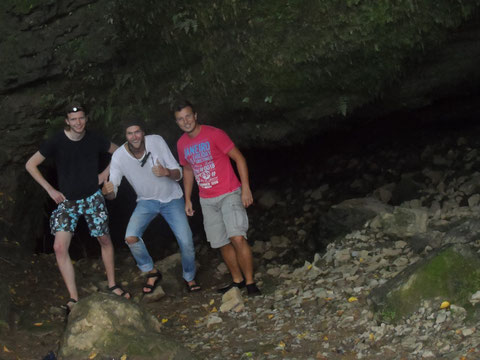 9th of August 2014
I left the door of my bedroom open so I woke up with a bed full of kittens. I felt like in heaven and felt it would be a good day for herping. Maybe we could even get rid of the rental car? Our first two searchsites of the day didn't deliver the desired Adders or Nose-horned Vipers but only a dead Eurasian Lynx (Lynx lynx) on the road. At the Vipava River we had a swim which wasn't cold at all and encountered a few Dice Snakes (Natrix tessellata). Nearby woods also delivered what we were after and we found several Italian Agile Frogs (Rana latastei), Yellow-bellied Toads (Bombina variegata) and an additional Dice Snake juvenile. In the late afternoon we drove towards yet another search site and tried hard to photograph lizards of which only a few were around. Western Green Lizard (Lacerta bilineata) and Dalmatian Wall Lizard (Podarcis melisellensis) were only represented by a few individuals. Back to the car Rick told us he saw a Viper dissappearing into a crumbled rocky wall. We went to check again and heard indeed a snake hissing. Carefully lifting the rock from where we heard the hissing coming from delivered nothing which made us even more determined finding this snake. Lifting stones in the close vicinity did not reveal the snake... Well, I gave it one last try, flipped a relatively small stone and there she was: A big and beautiful Nose-horned Viper female. What a beauty! In the proces we could even catch and return lost dog Bonnie back to her owners, we are heroes of every day life indeed....
We ate at the Golden Arches because there was one. After dark we met up with Frank and Teja - normally we would not have felt safe to do this but we still had our own car so it was okay. We also had a watermelon on the roof of the car to protect us. We visited several places for Catsnake (Telescopus fallax) but this secretive snake was nowehere to be found. Well past midnight we arrived back at our base in Belsko, had a last beer and I fell asleep again in a kitten infested bed.
10th of August 2014
After our fabulous hosts made breakfast for the Dutch boys we went to a mountaintop in southern Slovenia to search for alpine herpetofauna. Eventough team Handsome left way earlier than team Lovebird we arrived later. We had a good reason as we all felt this would be a great place to test how to get rid of the rental car and to ask the rental company for a better one... We gave it a try how to get the car of the road and knew it would work. Any how, back to herping. The weather was clouded with an occasional ray of sunshine and it wasn't for long until Thomas could find the first baby Adder (Vipera berus) after which we could find two more individuals. One was melanistic and the other had a bright contrasty pattern. Also a few Slow Worms were easily encountered. At the top of the mountain we had a great sauerkraut soup with sausage and bread while a cold wind was howling outside. In the nearby woods we found two Alpine Salamanders and a single dark individual of the Yeti Tree Frog (Hyla hominis).
Time to go to the coast afterwards as we wanted to see European Pond Terrapin. Several sites only delivered Italian Wall Lizard. No time to be sad though... While we were driving a country road Rick spotted the perfect oppurtunity to solve the rental car problem from the corner of his eye - eventough Thomas was not wearing his seatbelt he went for it. We did a crazy stunt and found ourselves 4 meters down. After taking care of police and towing stuff we decided to annoy Frank and Teja a bit more and join them for another night while the rental company searched for a better rental car. I did not feel safe in the codriver seat with Teja pretending to "search for her phone" all the time, so I joined Rick in the back of the van. Back in Belsko Rick and I told everybody "it was warm in the car, that's why..." and they all believed it. After a delicious meal made by Teja's mum we went of to bed. And after an obligatory beer of course.
11th of August 2014
The people from the car rental company liked me best so they always called me awake way too early. Very nice. But the good news was we could collect a new rental car in Trieste, with a turbo engine because now they knew we were not joking. Frank and Teja were as kind as to bring us there and after a friendly lady in a green dress gave us the keys we were of to the next steep roadside habitat. Only Yellow-bellied Toads and Italian Wall Lizards to be found so time for some colourscheme swimming in a chilly stream. Two people were very sad they missed it...
At a big mountain at the Italian border we were more succesfull and found next to Yellow-bellied Toads also Common Wall Lizard, Western Whip Snake and Dalmatian Algyroides (Algyroides nigropunctatus). At a pizzeria nearby we went for dinner. Sadly the time had come to say goodbye to our friends and drive into Italy. See you soon Frank and Teja! At the Italian coast we searched for amphibians in a mosquite infested swamp. I had Peru training so I was fine but the amigo's were happy to leave again after finding Pool Frogs (Pelophyax lessonae) a Green Toad (Bufotes viridis) and two Italian Tree Frogs (Hyla intermedia) from the introgression zone with Hyla arborea. Several Night Herons (Nycticorax nycticorax) were seen as well. After a long drive we set up our tents at the base of the Pasubio Massif and fell asleep very soon.
12th of August 2014
When we woke up we were a bit dissappointed to miss out the stunning scenery I had here in 2010. Instead we could barely see 30m because of dense mist which eventually turned into pouring rain. I had a quick shower with only cold water and decided to just start hiking up, up, up. We met up here with Wouter and Monne to do this hike together. Having not seen each other for way too long we had lots to talk about and before we knew it we were at approximately 1500m absl. Soaking wet we arrived at the place to be for our main target here, as they were just sitting on the path. This subspecies of Alpine Salamander (Salamandra atra pasubiensis) has a very restricted range and only occurs in this mist sweeped valley of the Monte Pasubio. Out of nothing the cloud cover started to drop and we could finally see were we were. Steep, ragged peaks towered high above our heads, a falcon aimlessly soaring through the valley and few Chamois (Rupicapra rupicapra) clinging on to the steep rocky walls while shreds of mist made the eerie atmosphere complete. Otherworldy and such a special moment - only lasting for 5 minutes before it was gone and everything was covered by mist. Like a fairytale... Highly satisfied we hiked down.
We had a lovely lunch with warm soup, pizza and sunshine down the slope at the parking lot, searched for Fire Salamanders at a nearby stream and had to say goodbye already as their route went west while we were heading east again. Good to meet you Monne and good to see you again Walter! Our second search site was another range restricted subspecies of Alpine Salamander (Salamandra atra aurorae) and after thorough searching I could find a beautiful female. Also a Smooth Snake (Coronella austriaca) at an open meadow. Our original plans were to search the next morning for adders belonging to the Italian clade and to camp in the woods. Pouring rain and an equally grim weather forecast made us give up this plan and drive towards the Slovenian border area again. After a long drive we found an affordable hotel and slept like babies.
13th of August 2014
Eventough we slept in a lot we were still on time for a fantastic breakfast and stuffed ourselves with all the goods on display. Weather was still very questionable and it was to be a slow day herping wise. Several sites were visited and we only found Dice Snake, Common Wall Lizard and Western Green Lizard. A large group of Griffon Vultures (Gyps fulvus) was soaring overhead at the first search site which was quite a spectacle. We almost got lost as well but luckily there were yellow arrows everywhere so we found the car back. In the afternoon we drove back to Austria to the same campsite were we started the trip and were all puzzled how fast this week flew by. A well deserved meal and some beer to close of the trip followed and a nightly swimming session was skipped because of the rain. In the night I had to get rid of some strange men entering my tent but had a lovely sleep anyway.
14th of August 2014
A long and boring drive through traffic jammed Austria brought us back to Munich were Rick and Thomas dropped me of at home, after they went to the airport to fly home.
Species
Alpine Salamander (Salamandra atra ssp. prenjensis, aurorae & pasubiensis)
Olm (Proteus anguinus)
Common Toad (Bufo bufo)
Green Toad (Bufotes viridis)
Yellow-bellied Toad (Bombina variegata)
Italian Tree Frog (Hyla intermedia)
Agile Frog (Rana dalmatina)
Italian Agile Frog (Rana latastei)
Common Frog (Rana temporaria)
Pool Frog (Pelophylax lessonae)
Slow Worm (Anguis fragilis)
Dalmatian Algyroides (Algyroides nigropunctatus)
Horvath's Rock Lizard (Iberolacerta horvathi)
Western Green Lizard (Lacerta bilineata)
Dalmatian Wall Lizard (Podarcis melisellensis)
Common Wall Lizard (Podarcis muralis)
Italian Wall Lizard (Podarcis siculus)
Smooth Snake (Coronella austriaca)
Western Whip Snake (Hierophis viridiflavus)
Grass Snake (Natrix natrix)
Dice Snake (Natrix tessellata)
Aesculapian Snake (Zamenis longissimus)
Adder (Vipera berus)
Nose-horned Viper (Vipera ammodytes)
Many thanks to Teja and Frank for their hospitality!