As with autumn trips - a wintertrip in the Mediterranean is always a bit of a gamble when it comes to the weather conditions. You can have splendid sunny days where reptiles might be out - you can also have conditions where the heavens open the floodgates and amphibians start reproducing en masse. You can also be unlucky and the rainy conditions are combined with extreme wind and cold and no animals are out. So were we during this trip. The week prior to our trip conditions were reasonably good for herps, as soon as we arrived it went from bad to worse... We tried to make the most out of it and herped as much as we could. 
The reason to go back to Mallorca was to see an adult Ferreret, the Majorcan Midwife Toad (Alytes muletensis) in the wild. These incredibly endangered amphibians lives in small isolated populations in the Tramuntana mountains. While in the summer of 2011 I was already lucky enough to see larvae and juveniles despite an intense drought, I was hoping this winter the conditions would be favorable for adult observations. Gert Jan Verspui and his family also planned to go to the island for holidays and Paul Lambourne (UK) and Sjoerd van Bemmel (NL) tagged along as well.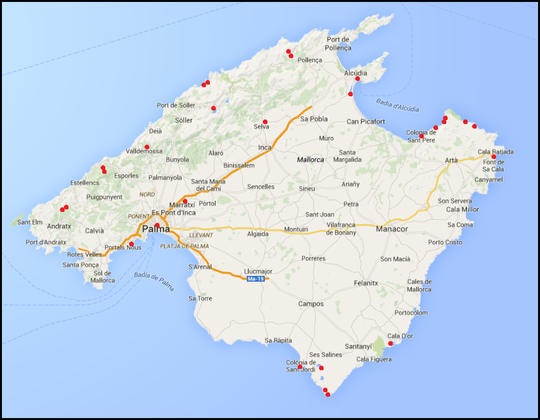 All images © Bobby Bok & Laura Tiemann unless stated otherwise.

27th of December 2014
Laura and I had an early flight from Munich to Palma, the capitol of this German colony. Having landed a few hours earlier from an European island called the UK, uncle Pauli was anxiously waiting for our arrival. After collecting the rental car we drove to Alcudia where we checked in to our incredibly cheap but spacious accomodation in the Apartamentos Carlos V. Paul brought us Christmas presents so we first had to change into our new cool T-shirts before we went to Hotel Fonda Llabres. There Paul would share a room with Sjoerd who already had a few nice days on the island. After fondeling and kusjes we drove to a gorge in the northeastern part of the island where Gert Jan made our team complete. In optimal habitat we searched for Majorcan Midwife Toad but only found Iberian Water Frog (Pelophylax perezi) with Eurasian Black Vultures (Aegypius monachus) soaring overhead. We decided to check out a second site for this species and found several tadpoles from Majorcan Midwife Toad (Alytes muletensis) but no adults. We drove to Selva to drop of Gert Jan with his family. To prevent Sjoerd from drinking all the beer we didn't stay too long and drove to Alcudia where we had a fantastic dinner at Bar Joves.
28th of December 2014
The day already started overcast and with the suboptimal conditions for herps we decided to head into the Albufera Marshes to search for a few new bird ticks. It took us a few hundred meter to realise this was a stupid idea, rain came pouring down and we were soaked to the bone. Back in the car we turned the heating to 'Sambal' and drove south in the hope of sunnier conditions. At Ses Salines we indeed had some sun and photographed a stunning Algerian False Smooth Snake (Macroprotodon cucullatus) and Moorish Gecko (Tarentola mauritanica). Distant Flamingos (Phoenicopterus roseus) and rainbows made the scenery complete.
At Colonia Sant Jordi we visited the only site where Lilford's Wall Lizard (Podarcis lilfordi) lives on the mainland in a small, introduced population in the harbour. This lizard species once occured all over the mainland but is nowadays only found on uninhabited islands of the coast of Mallorca and Menorca. With thick clouds coming in we were lucky enough to see three lizards out. The islands holding big lizard populations were off limit because of the rough sea. With rain coming down and the storm gaining strength we had lunch in town to sit out better conditions.
Luckily they came quickly and we headed to Cap de Ses Salines. No herps turned up here but instead a few Hoopoos (Upupa epops) and stunning views at the raging sea.
At nightfall we searched at a coastal estuary and with a great deal of effort we managed to find a single Green Toad (Bufotes viridis balearicus) hopping on the path. 
A long drive to Marratxi followed. There have been several sightings of chameleons here in the past and we decided to check it out. We had a very healthy meal at the Golden Arches and headed to the site. Cold, wind and rain are all no good conditions for these arboreal reptiles so we soon gave up and headed to bed.
29th of December 2014
The last day where the whole team was complete so we decided to give the Majorcan Midwife Toad another try. We headed to place high up in the mountains where Sjoerd and Gert Jan had been before a few days ago and also found lots of tadpoles of our main target. A long climb led us up to the summit where temperatures seamed to drop every meter we gained in height. Also here no luck again... Sjoerd tried to show us some nice videos on his phone involving whipped cream, trying to keep us warm but too no avail. Down the mountain we met up with Gert Jan's family and we drove to the coast to search for Ibiza Wall Lizard (Podarcis pityusensis). The lizards were quickly found besides several Moorish Geckos and a single Turkish Gecko (Hemidactylus turcicus). In Inca Laura secured a place to dine for all of us despite the kitchen not opening for an hour yet. We had great food and lots of wine, our glasses never seemed to be empty! Back in Alcudia we drank a bit more, making new friends in the Bar Joves, dressing up like elves and dancing to Christmas jingles. Sjoerd and I didn't feel like sleeping yet and following our instincts we found a concert going on with great music, weird people and lots of stuff to make you dance! 
30th of December 2014
With the rest of the team heading back home it was just me and Laura now. We managed to pack ourselves together, wipe our tears, man up and head to the Albufera Marshes. Birding here was rewarding with many species such as Kentish Plover (Charadrius alexandrinus), Black-winged Stilt (Himantopus himantopus), Purple Swamphen (Porphyrio porphyrio), Red-knobbed Coot (Fulica cristata) and Marsh Harrier (Circus aeruginosus). The rare and secretive Marbled Teal (Marmaronetta angustirostris) did not show up sadly. We had lunch in Betlem and then hiked to the stunning coast at Es Caló. Back in Alcudia we ate at the cosy Restaurante Ronda63 and enjoyed a fabulous meal before heading to bed.
31st of December 2014
Another failed attempt to see Marbled Teal but with a breakfast in the sun at the Albufera Marshes. Today we did a scenery hike from Cala Torta to s'Arenalet des Verger. An amazing landscape of small hidden valleys with abundant palm trees, massive waves shattering themselves on the rocks and otherwordly coloured rocks. After this we drove to Palma, went to our new accommodation near the centre of the city and had a great meal on one of the many squares in the inner city. Palma has got the be the most fun place to be for dogs on New Years Eve. While the party in the city was lots of fun, the fireworks were a bit disappointing, if not largely absent. 
1st of January 2015
We slept in and had breakfast at Ses Illetes. Here we could observe our first herps of 2015 in the form of Ibiza Wall Lizards. After a refreshing New Years Dip and some strange looks of Spanish people we headed into the mountains near Andratx to search (again) for Majorcan Midwife Toad. The rental car didn't like the narrow streets to much so we had to walk quite a bit but again didn't find a single toad. The evening drive along the northern coast was beautiful though and we had a lovely meal in Valldemossa before we went back to Palma.
2nd of January 2015
Our last full day on the island already and we decided to head to a coastal site where Majorcan Midwife Toad occurs almost at sea level. After an hour of hiking we were already at the stunning site consisting of several large and smaller waterbassins connected by flowing streams and crystal clear water. The ruins of the old waterworks against the backdrop of the rising peaks of the Tramuntana mountains with Eurasian Black Vultures soaring over completed the magical scenery. Again no toads but who can complain with such a beautiful place to explore... At the winding roads of Sa Calobra we photographed the breathtaking scenery at dusk before we headed back to Palma.
3rd of January 2015
After breakfast at an awfully pink cafe we headed into the city for a relaxed last day on the island. Of course the sun was fully out today but what to do. We photographed the Ibiza Wall Lizards at the old city walls and La Seu Cathedral, shopped for new jaunty headgear, had a hot chocolate milk in the oldest cafe in the city and relaxed in the sun before flying home in the evening.
Make sure to check this out as well:
Species
Majorcan Midwife Toad (Alytes muletensis)  tadpoles
Green Toad (Bufotes viridis ssp. balearicus)
Iberian Water Frog (Pelophylax perezi)
Turkish Gecko (Hemidactylus turcicus)
Moorish Gecko (Tarentola mauritanica)
Lilford's wall Lizard (Podarcis lilfordi)
Ibiza Wall Lizard (Podarcis pityusensis)
Algerian False Smooth Snake (Macroprotodon cucullatus)
Muchas Granada to: Frank Deschandol, Maarten Gilbert, Arlo Hinckley, Peter Oefinger, Samuel Pinya and Jeroen Speybroeck.