With night temperatures dropping again, Niklas and I suspected the Adders (Vipera berus) would bask more extensively. To put this theory to the test, we searched in a large heatherfield south of Munich. We found several Viviparous Lizards (Zootoca vivipara) again but also 6 melanistic Adders. And indeed, they were basking much more in the open and we were very happy to see so many snakes in a place where you usually don't get to see that many.
With such sunny weather like the past week, Niklas and I were keen on seeing how much reptile activity there is to be found around Munich. We visited three different locations. On the first we saw many Viviparous Lizards (Zootoca vivipara) running around and found a melanistic Adder (Vipera berus). Also two Pygmy Owls (Glaucidium passerinum) were calling in the distance but we didn't get a visual. On the second site nothing was out surprisingly, but on the last location we again found a nice male Adder basking cryptically. A refreshing dip in the Isar concluded a very nice day in the field!
After seeing my first ever Wallcreepers (Tichodroma muraria) last month, I was aching to return to see them again. This time I immediately saw them as I knew what to look for, although a Peregrine Falcon (Falco peregrinus) caused some panick amongst the local birds!
On Sunday Laura and I ventured into a beautiful moor south of Munich. There was surprisingly little reptile activity but after searching for quite awhile, Laura found a nice melanistic Adder (Vipera berus). Although not in the most photogenic pose, we didn't want to disturb the snake so shortly after hibernation so admired her from a distance.
Two consequetive days of birding, and two days with some interesting sightings. On Sunday I went out with Niklas where we saw a myriad of duck species and some Long-eared Owls (Asio otus) resting in a tree. On Monday I went out in the mountains with the toboggan. It is a great way to go birding; hike up a mountain and then slide your way back down, stopping along the way when there is something interesting to be seen. Such as a massive feeding flock of Chaffinch (Fringilla coelebs), Crested Tit (Lophophanes cristatus), Goldcrest (Regulus regulus), Blackcap (Sylvia atricapilla) and two Red Squirrels (Sciurus vulgaris). At the top of the mountain a small flock of Crossbills (Loxia curvirostra) awaited me and the White-throated Dippers (Cinclus cinclus) are always a treat to observe. Hopefully with the rising temperatures more amphibians and reptiles will show up!
Together with Laura and Niklas I ventured south towards the Alps to do some birding and early herping. The predicted sun was out shorter than expected and our hopes of finding any early reptiles got smaller. The Sahara dust that was blown over the Alps was to blame for this. We did get to see some interesting birds but after some hours we still did not see a single reptile. While I voted for going back towards the snackbar to get some fries, Laura and Niklas convinced me to search just a little bit longer and that was a good decision! Just a few meters further I could find our earliest German Adder (Vipera berus) ever. A new record for us and a welcome sighting!
During my lunchbreak I couldn't resist the temptation to see if the local Wall Lizards (Podarcis muralis) would be out already. I hopped on my bike and not before long until I saw the first juvenile lizards chasing each other. And I also got to see a driving train up close!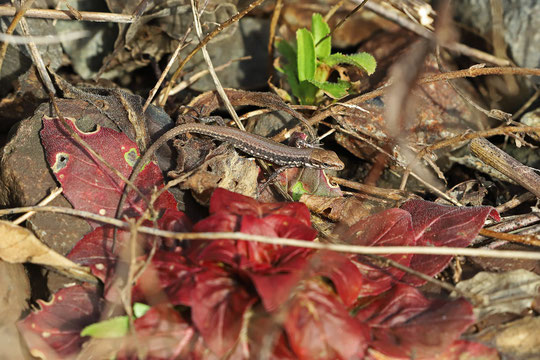 Another lockdown means again no travelling. And with this lockdown being in winter, there is little chance for any decent herping. At least the surroundings of Munich were covered in a thick carpet of snow, providing much neaded distractions in the shape of tobogganing and trying to photograph animals in winter scenery. Especially my favourite birds, the White-throated Dippers (Cinclus cinclus) were a delight to observe in freezing streams surrounded by snow. But also seeing a Spotted Nutcracker (Nucifraga caryocatactes) for the first time was very exciting.
With the temperatures starting to rise and some rain the previous days, Laura and I headed out into our favourite forest patch together with herping buddy Niklas. Although we didn't really expect to find much, we were amazed by the numbers of Fire Salamanders (Salamandra salamandra) which were out and about. We found 32 individuals, mostly around streams which remain frost-free during winter but some brave (but slow) individuals were walking over patches of snow.
At the last day of the month, Niklas and I ventured into the Allgäu to a promising spot for one of my most-wanted birds. A slight drizzle and freezing temperatures weren't the nicest conditons to be staring at a cliff for a long time but persistence paid of. Our first sighting was a Grey-headed Woodpecker (Picus canus) foraging along the rocky walls, but in the end we managed to see two Wallcreepers (Tichodroma muraria). A species usually confined to high altitude locations, but spending the winter months in quarries lower down. Great sightings of great species, both of which we could observe for quite some time. Afterwards we explored some other areas higher in the mountains and enjoyed some great scenery. An awesome day!