The last week of the school year means for the third grade students the survivalweek to the Ardennes called KrisKras. During this week I guide one of the groups as we travel the Ardennes by foot and with backpack. While some of the students have a hard time, for me it feels like sliding into the holidays with much comfort as I love being outdoors and it offers me the opportunity of looking for interesting animals together with students.

This year was a little different as I wasn't the only one to hold up the group from time to time because of interesting animals crossing our path. Together with one of my students Tieme, who also has a keen interest in reptiles and amphibians, we sometimes made the group wait a little because of an interesting stream with Fire Salamander (Salamandra salamandra) larvae, a muddy puddle filled with Alpine Newts (Ichthyosaura alpestris) and Palmate Newts (Lissotriton helveticus) or a grassy meadow with Slow Worms (Anguis fragilis) and Grass Frogs (Rana temporaria). Also when the others were vast asleep we sneaked into the woods in the hope of finding any adult Fire Salamanders but despite absurd amounts of larvae none could be found.

At the moment we were visiting, the Ardennes were struck by a heatwave. Temperatures above 35 degrees were no exception and this sadly meant low activity of animals. On the other hand this also meant a lot of swimming sessions induced by "meneer Bok" and I have never had a nicer KrisKras, it almost truly felt like holidays!
With the temperatures remaining high, Thijmen, Suma and me decided to go for a swim after finishing our sushi meal. The water was divine and when we got out there was a slight drizzling rain falling down. With such conditions we can't skip on amphibian activity so we went to my favourite spot. Tree Frogs (Hyla arborea) were the first to be found, calling from the water surface. Several Common Toads (Bufo bufo) and Grass Frogs (Rana temporaria) were also encountered and on the way back to the car we had to place our feet carefully as the path was littered with toads, both common and Natterjack (Epidalea calamita). Many Fallow Deer (Dama dama) and a curious Hedgehog (Erinaceus europaeus) completed the scenery.

For some time I wanted to do a little herping trip abroad this weekend but while most of my traveling compagnions could not join I also deemed it wiser to save the money and look for a destination closer to home. The most southern tip of The Netherlands is not only very different to the rest of the country from a geographical point of view, also the flora and fauna are more continental and host a number of species found nowhere else in the country. Together with Ronald, Jasper and Dieuwertje I went to explore this province to visit known spots and several new spots.

On Friday it was just me and Ronald and after work we took the train to Limburg, overcrowded but luckily on time and a little past six we arrived in Valkenburg. We checked in to our hotel, went out for dinner at a restaurant with a great view and headed towards a place good for many amphibians. A slight rain was already falling but as soon as we arrived at the spot it came pouring down. For amphibians these conditions were also too much as we found a single Grass Frog (Rana temporaria), a single Yellow-bellied Toad (Bombina variegata) and a single Common Midwife Toad (Alytes obstetricans) while only the Alpine Newts (Ichthyosaura alpestris) were out in big numbers. Soaking wet we managed to get the bus back to Valkenburg, changed into dry clothes and went out to celebrate into the city with a lot of nice people around!
After breakfast in the hotel Ronald and I took a bus towards a great place for both scenery and wildlife and also told Dieuwertje and Jasper to meet us here. We quickly found Alpine Newt, Slow Worm (Anguis fragilis), Common Wall Lizard (Podarcis muralis) and several Common Midwife Toads. After Dieuwertje and Jasper arrived we had a nice lunch and went towards Maastricht to a place where Smooth Snake has recently been discovered. Sadly the weather turned sour and we only found lots of Common Newts (Lissotriton vulgaris), Grass Frogs, Common Toad (Bufo bufo), Slow Worms and many Lesser Stag Beetles (Dorcus paralellipipedus). In the evening we had dinner at the same restaurant as the previous night and all enjoyed the nice view. After darkness set in we went out again and it was to be magical. At first we stumbled upon a family of Badgers (Meles meles) that looked down on us from their burrow in a hollow road. They ran off but we found a second family that did not seem to be bothered by us at all. We just sat down on the forest floor and they ran around, ate some snails, scratched themselves, sniffed our feet etc. Fantastic to see these usually shy animals like this! Afterwards we found several Yellow-bellied Toads, a male Common Midwife Toad with eggs and lots of Palmate Newts (Lissotriton helveticus).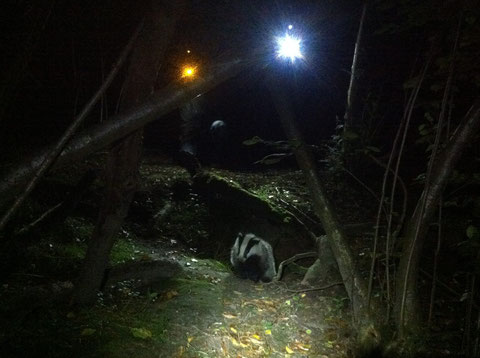 Ronald had to leave early on Sunday for a family gathering so when I woke up he was gone already. After breakfast I checked out and Dieuwertje and Jasper were already waiting at our rendezvous. First we had to place a present for some people who will also go to Limburg soon and observed several Viviparous Lizards (Zootoca vivipara), Alpine Newts and Yellow-bellied Toads. After lunch in the car from the Golden Arches we went to a big heatherfield but also here the weather turned from bad to worse and none of the highly priced snakes turned up. We did see several Viviparous Lizards, Palmate Newts, Common Newts, Pool Frogs (Pelophylax lessonae) and Common Toad. Along the long drive home we stopped at a known place for several interesting amphibians and found six Tree Frogs (Hyla arborea) along with Grass Frog and Common Toad. In the ponds themselves we only found several larvae of Crested Newt (Triturus cristatus) while the weather turned from worse to horrible and we decided to drive back north. This visit was as always too short but we sure made the best out of our limited time here. We had a blast!

The least densely populated province of The Netherlands harbours a relative wealth of nature and also harbours some of the biggest reptile populations of this small country. On top of that a number of interesting alien species has been introduced here so the total number of amphibian and reptile species is hardly rivalled by many other provinces.
The original plan was to meet up with British friends Paul and Trev and Laura and I would show them a place with Russian Ratsnakes. Why not meet up with the entire gang as we don't see each other so often? In the end also Wouter, Jeroen, Peter and Birgit joined and Sjoerd, Lucienne, Gert Jan and Cynthia also joined for a day.
We started Saturday afternoon in the big garden of a B&B in the north of Drenthe. The initial site of the introduction harbours several native species and we could easily observe our first Pool Frogs (Pelophylax lessonae) and a big Grass Snake (Natrix natrix) female. While one by one herpers started to arrive also the sun came out and we could easily observe five Russian Ratsnakes (Elaphe schrenckii) of several age classes. Afterwards we had a stroll through one of the many vast moorgrounds and saw two Adders (Vipera berus), Common Sundew (Drosera rotundifolia) and a beautiful species of moth I had never seen before in The Netherlands, a Small Emperor Moth (Saturnia pavonia). In the evening we went to the Hotel in Hoogeveen, had dinner at a strange place where the food was named after German persons and had a look at two interesting places. At the first place we could only hear two calling Spadefoot Toads (Pelobates fuscus) but at the second place it wasn't for long before Jeroen saw eyeshine and found two lovely little Spadefoots.
The next day we started at a big heatherfield with Hunebedden and were terribly lazy. Despite this, we found three Adders, lots of Pool Frogs and Viviparous Lizards (Zootoca vivipara) and two Grass Snakes swimming in a shallow lake. At the second site we were hoping to see Tree Frogs but only found Pool Frogs, mosquitos, ponies and almost lost Wouter in the moor. The last searchsite before sunset delivered again Pool Frogs and Viviparous Lizards but also many Grass Frogs (Rana temporaria) and Moor Frogs (Rana arvalis) with interesting colours. Laura and I had a lovely swim before our rumbling tummies drove us towards a great restaurant with tasty Chicken Wings. The evening we searched at a place with several small ponds in an isolated forest fragment while the temperatures were still enjoyable. Many many Pool Frogs and Tree Frogs (Hyla arborea) were calling and under water amphibian life was no less avid. Alpine Newt (Ichthyosaura alpestris), Smooth Newt (Lissotriton vulgaris) and Crested Newt (Triturus cristatus) were seen. We even found a fourth species of Newt which is more typically seen in France or Northern Spain. Several Marbled Newts (Triturus marmoratus) in the most beautiful colours. Even though introduced these animals remain impressive all the same!

On Monday it was first time to say goodbye to team UK and with tears still in our eyes we drove un to the great place from the night before. We found that reptiles are also plentiful here. Several Grass Snakes, Slow Worms (Anguis fragilis) and even Wall Lizards (Podarcis muralis). What a joy, herpers heaven... But then it was time to go home as well, luckily Jeroen allowed us to have lunch at McDonald's so the tears were not flowing to heavily but we had to say goodbye to team Belgium and Laura and I drove on via Utrecht back to Heemskerk. On the way we stopped to look for melanistic Viviparous Lizards but it was warm and crowded on the small isolated heatherfield so only found a couple of normal lizards and three more Adders.

After discussing the last logistics for our Africa adventure, Jasper, Dieuwertje, Sander and Ronald and me went into the dunes and found a sheer bonanza of amphibian life. This was the first night all week with windless and rather warm conditions so amphibians were offering us a magical chorus. The Natterjack Toads (Epidalea calamita) were heard in the distance but the Tree Frogs (Hyla arborea) could not be missed. Other amphibians we saw were Marsh Frogs (Pelophylax ridibundus), Grass Frogs (Rana temporaria), Common Toads (Bufo bufo) and Smooth Newts (Lissotriton vulgaris) including a neotenic one. Also several Mole Crickets (Gryllotalpa gryllotalpa) were calling and even seen swimming (!) while lots of Cockchafers (Melolontha melolontha) were buzzing above our heads.
A bright and sunny day brought the entire city of Munich out but luckily Laura, Manfred and me could enjoy some more tranquil places such as the Isarinsel and Grünwald. Not many animals were active yet but we did observe two beautiful Grass Snakes (Natrix natrix) basking on the shores of the river Isar while the small puddles on the interior of the island were filled with tadpoles of Grass Frog (Rana temporaria). After a lush meal at the Brückenwirt we headed towards Grünwald and in the last rays of sunshine we found several Yellow-bellied Toads (Bombina variegata) out and about and a dead Grass Snake.

Curious how much amphibian and reptile activity we might encounter close to the Alps, Laura and I ventured towards Kochel to look in the surrounding marshland for Adders. Eventough weatherconditions were far from optimal in the early afternoon we managed to find one Adder (Vipera berus) brave enough to venture out and bask itself on some old reed. Several Viviparous lizards (Zootoca vivipara) were seen as well, including one litter from last year. Great to see how these juveniles always stick together for the first winter and disperse the following spring. Afterwards we drove towards the Walchensee and saw many Common Toads (Bufo bufo) dead on road. As soon as we set foot on the shoreline we found a beautiful melanistic Grass Snake (Natrix natrix) - a colour variety that seems to be rather common around this cold mountain lake. In the surrounding woods we tried our luck for Alpine Salamander but only Alpine Newts (Ichthyosaura alpestris) were found. Too early still for some species...

The weather was significantly better than the previous day so Laura and I were heading towards the more reptile rich parts of The Netherlands; The Veluwe. Already soon after arrival we saw a few Sand Lizards (Lacerta agilis) basking in secluded bits of the heatherfields, the wind was still strong and cold. A single male Slow Worm (Anguis fragilis) was seen basking as well and not before long the first of eleven Adders (Vipera berus) was spotted as well. Mostly males were seen but also two females and even two juveniles. One of these youngsters was basking on top of two adults making use of their body heat. After this successful venture over the heatherfields we headed further south in the direction of Wageningen. While we hiked towards a well-known spot for Grass Snakes (Natrix natrix) we were making jokes that we would probably encounter Matthijs Hollanders and his girlfriend here again, like we always do. Just in that moment I heard someone calling my name and our premonitions became true. The first Grass Snake was quickly found and two more were seen but sadly not the "mating-balls" we were hoping for. An encounter with fellow administrator on waarneming.nl Rémon ter Harmsel and his girlfriend closed a very nice day in the field.
This Saturday my close friends Jasper and Dieuwertje celebrated their birthday in the dunes and tradition dictated a puzzle hunt as main activity. This year the theme was Malawi because our summer destination for this summer is SE Africa. All day we withstood the elements of battering wind and cold, drizzling rain and searched for hidden African "animals" in the dunes, providing us clues for the next target. By day we could find many Grass Frogs (Rana temporaria) and few Common Toads (Bufo bufo) already. By nightfall we searched a bit more and could hear a few male Natterjack Toads (Epidalea calamita) singing despite the cold. A single, brave Tree Frog (Hyla arborea) was also out and about.