For a long time Laura and I knew that when we would get married, a honeymoon to the Seychelles is what we want. When we found out that the flights to the Seychelles have a stopover in Abu Dhabi, and after seeing Gert Jan's fantastic report, we decided to extend our honeymoon with an additional week of herping in the UAE. We knew it would be searing hot around the time of our visit, and thus not the most ideal for herping. However, we are not shy of a challenge and went for it!
The first three nights were spend in the rugid north of the country. Here we focussed on herping in the wadis and hoped to find many species bound to rocky terrain. The Omani and Persian Gulf are close by, and the combination with the fierce summer sun makes sure the humidity could match that of a tropical rainforest. At night it doesn't really cool down and a breeze is a rare commodity. The last three nights were spend further inland were the temperatures were even higher (sometimes well over 50 degrees Celsius!) but at least the humidity is much lower here and that made being outside slightly more pleasant.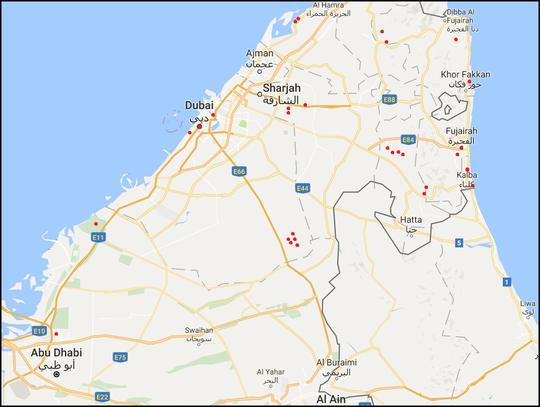 All images © Laura & Bobby Bok
28th of July 2016
A late flight from Munich to Abu Dhabi where Etihad Airways outdid itself in transporting people like cattle. Not a very comfortable flight...
29th of July 2016
After collecting the rental car we drove from Abu Dhabi to Dubai where we made a stop at the Marriott Hotel at the Dubai Marina for a breakfast and a view on the Palm Jumeirah. Lots of Common Mynahs (Acridotheres tristis) and a Hoopoo (Upupa epops) brightened the otherwise abandoned streets. After that, we did some sightseeing in Dubai which meant going to the Burj Al Arab, Burj Khalifa and the Dubai Mall. An extravagance in consumerism and a cultural melting pot where girls in hijabs occur syntopically with scarcely dressed football wives. Not our thing and we didn't stay too long. Afterwards we drove to Fujeirah and checked in into the Ibis Hotel. Herping in Wadi Al Helo after sunset delivered our first herps such as Orlov's Fan-fingered Gecko (Ptyodactylus orlovi), Gallagher's Gecko (Asaccus gallagheri) and Hajar Rock Gecko (Trachydactylus hajarensis). At the Shawka Dam we saw more Fan-fingered Geckoes and the two only amphibian species occuring in this harsh climate; Arabian Toad (Sclerophrys arabica) and Dhofar Toad (Duttaphrynus dhufarensis).

30th of July 2016
After a massive feeding frenzy at the hotel's breakfast buffet we headed towards the Khor Kalba mangroves. Unfortunately we couldn't enter the nature reserve because the road leading into the reserve is being renovated. We were however allowed to stroll around the entrance and that proved not too bad at all. On the mudflats Fiddler Crabs (Uca sp.) and many wading birds such as Oystercatchers (Haematopus ostralegus) and Red-wattled Lapwings (Vanellus indicus) are foraging, while in the murky water below the bridge we could easily see several sea turtles, both Green Sea Turtle (Chelonia mydas) and Loggerhead Sea Turtle (Caretta caretta). What a fantastic sight!
Afterwards we tried to reach some nice beaches we spied on Google Earth but they proved to be forbidden terrain. So we were bound for a dip in the Omani Gulf at Khor Fakkan. It felt like swimming in tea, so not really relieving but we did see some nice Ghost Crabs (Ocypoda sp.) running along the shore line. After an easy meal in the car we drove to Wadi Shawka and while the sun was setting we saw few Oman Rock Agama (Pseudotrapelus jensvindumi) and a lightening fast Schokari Sand Racer (Psammophis schokari). We also ran into the friendly Pakistani Nedir, whom we asked if he knew if there was any water left in the wadi. After a bumpy ride we drove further into the wadi until we had to walk. Climbing over steep cliffs and still hot rocks was not easy work but we indeed reached some stangnant puddles. The shores were littered with both toad species and we felt like this could be a good place for snakes as well. Our efforts were awarded and after an hour we found two Oman Saw-scaled Vipers (Echis omanensis) in ambush position next to the pools. While photographing Nedir was so kind to drink all of our water, which made the hike back a little unpleasant.  
31st of July 2016
After breakfast we drove to do some sightseeing at Fort Hayl which we had all to ourselves. Not surprising in this heat! In the palm lined wadi down the fort we saw a few White-eared Bulbuls (Pycnonotis leucotis) and Green Bee-eaters (Merops orientalis). We then drove north along the coast, visited another wadi close to Dadna and saw the same birds again. At the Golden Tulip Hotel in Khatt we checked in in the late afternoon and had a dip in the pool in an attempt to cool off. In the last sunlight we checked the grounds at the Arabian Wildlife Centre and saw many birds including White-eared Bulbuls, Grey Francolins (Francolinus pondicerianus) and Rufous-tailed Scrub Robin (Cercotrichas galactotus). Sadly not the Spiny-tailed Lizards we were after... After a simple dinner in the sanddunes we searched for geckoes and snakes and easily found several Arabian Short-fingered Geckoes (Stenodactylus arabicus) including many juveniles, Middle Eastern Short-fingered Geckoes (Stenodactylus doriae) and two Plate-tailed Geckoes (Teratoscincus keyserlingii). This last species is much more widespread in Central Asia and has a rather relictary occurence in the UAE. The next site was a coastal area with saltmarsh and sanddunes where we only found Middle Eastern Short-fingered Gecko and a single Hadramaut Sand Lizard (Mesalina adramitana). The climate here was the worst we experienced, so hot and humid that we also didn't linger to long and drove on to a ravine home to a very pretty gecko that we didn't find. We did see a Fox (Vulpes vulpes) crossing the road and a single Orlov's Fan-fingered Gecko in the noisy and dusty ravine.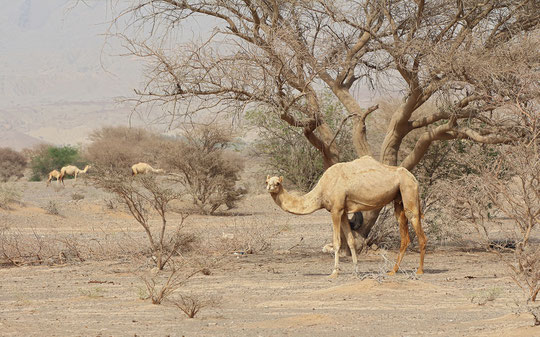 1st of August 2016
We slept in a bit after a long night of herping and drove in the late morning towards the Al Maha Resort. A luxurious place which we normally wouldn't be able to afford ourselves but our travel agent made a good deal. As this resort is situated in the heart of the Dubai Desert Conservation Reserve we could venture from our suite with private pool straight into the desert with prime reptile habitat. After we just arrived we already did a wildlife drive with our guide Jason. Not for long we saw many Arabian Gazelles (Gazella gazelle cora), Arabian Oryx (Oryx leucoryx) and even two Egyptian Spiny-tailed Lizards (Uromastyx aegyptia leptieni). Such a joy to watch these big enigmatic dino-look-a-likes basking and foraging. After this succesful first jaunt we did some birdwatching around the resort and observed White-eared Bulbul, Red-vented Bulbul (Pynonotus cafer), Grey Francolin, several species of pigeon and Pallid Scops Owl (Otus brucei). While we had a sip of champagne in the swimming pool to celebrate this already succesful first day here, a small herd of Oryx came in to drink from the pool with us in it. Wildlife watching at its best!
After an excellent dinner in the resorts restaurant, we ventured into the sanddunes. We easily found Middle Eastern Short-fingered Gecko, Arabian Short-fingered Gecko, Baluch Ground Gecko (Bunopus tuberculatus) and no less than four Sindh Saw-scaled Vipers (Echis carinatus sochureki). Back at our suite the walls were teeming with Red Sea Leaf-toed Geckoes (Hemidactylus robustus). We had a last dip in our private pool and discovered the strange noises we heard, were mating Oryx next to the pool. Classy..
2nd of August 2016
We had a lazy day with breakfast at the restaurant and lounging at the private pool. In the afternoon we settled for another wildlife drive through the reserve and saw besides Arabian Oryx and Arabian Gazelle also the more shy Sand Gazelle (Gazella suggutturosa marica). Also several interesting birds were seen such as Steppe Buzzard (Buteo vulpinus), Green Bee-eater and an overflying Houbara Bustard (Chlamydotis undulata). In the afternoon we searched the sanddunes by foot and saw a single Arabian Sand Skink (Scincus mitranus) and a single Schmidt's Fringe-toed Lizard (Acanthodactylus schmidti). Very little diurnal lizard activity going on! We ordered our three course dinner at our suite and dined at the pool. Plunging in the water between courses.
Evening herping only delivered the usual geckoes and a single Sindh Saw-scaled Viper. Interesting was that this viper was posted at a light, most likely ambushing geckoes who are attracted to the insects that come to these lights.
3rd of August 2016
A very early morning to look for Sand Skinks with little succes. When we were hiking back to our suite we noticed some tracks in the sand on the path. "Hmmm, those look like Desert Monitor tracks..." Still sleepy and numbed by the sun (which was increasing in strength) we weren't the fastest thinkers. But we did follow the tracks into the sanddunes when we could see that they stopped somewhere. It also appeared there was something laying in the sand. We got the telelens out, made a picture and were both immediately alert when we discovered an actual Desert Monitor Lizard (Varanus griseus) basking on the sand when we enlarged the picture on our display! With some team effort and sneaking up behind a sand dune we were able to catch this fierce and stunningly beautiful lizard. What an exciting find! We allowed ourselves to have a nice breakfast at the suite, relaxed a bit at the pool and did another wildlife drive in the afternoon with the usual suspects being seen. Although this time we did manage to photograph the Houbara Bustards as we discovered a group of four resting in the shade. 
In the evening we had dinner at the suite and Jason dropped us of in the sanddunes in an area where he often sees Arabian Horned Viper (Cerastes gasperettii). We searched for several hours but had again no luck with this species but did find more Sindh Saw-scaled Vipers. Late in the night he picked us up, brought us back to our suite and we slept like babies in the king size bed. 
4th of August 2016
An early morning for diurnal species again and we found again nothing except for a big and beautiful Arabian Sand Skink. What a stunning species which is perfectly adapted to life on- and under the sand. The rest of the day we relaxed at the pool and only in the afternoon we had a quick visit to Dubai for some touristy stuff and then on to a coastal site for geckoes. It didn't take us long before we found Arabian Short-fingered Gecko and the highly desired Gulf Short-fingered Gecko (Pseudoceramodactylus khobarensis), which is a long name for a pretty little gecko with long limbs and long protruding nostrils. But then it was time to leave this country for a nice and cool destination. On to the Seychelles!
Epilogue
The UAE is a rather small country although it still harbours a wealth of species both typical for rocky and sandy soils. Driving is perfect and there is a vast network of roads which makes it easy to get around. Plenty of speeding cameras on the roads however so you can't race from one spot to the next. There are small supermarkets and little restaurants dotted along most roads. When you had enough of the heat, even the busstops are airconditioned making life in the furnace endurable. These factors all make it a very interesting destination for fieldherpers and it might even feel like luxury herping! However, as always, habitat destruction is omnipresent and personally I was not too smitten by most scenery. It is very hard to make a scenery picture without human presence on it. Everywhere mountains are being turned into quarries, sanddunes leveled for construction and wadis used as garbage disposal sites.
Besides, summer was of course not the best time of year to visit. We had a very hard time to find diurnal lizards and found very few of those. Getting up before sunrise and stay in suitable habitat after sunset didn't allow us to see common species such as Arabian Toad-headed Agama. At day it was too hot and we didn't find anything. Also at night, the rocks in the wadis were still too hot too touch almost and walking in the sanddunes was only slightly better. We did not find any snake tracks and the only snakes we encountered were lying in ambush near shrubs or stangant pools. We tried hard to find Arabian Sand Boa or Arabian Horned Viper but had no luck in finding them. But seeing a Desert Monitor basking in the sand, an Egyptian Spiny-tailed Lizard foraging between his staple food plants, Oman Saw-scaled Vipers in ambush at night or the sheer variety in gecko species made the trip well worth it for us!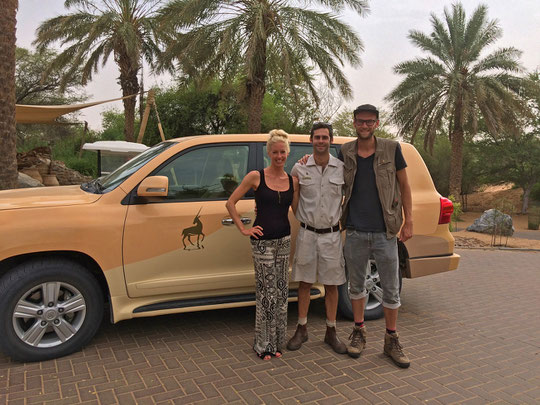 Species
Dhofar Toad (Duttaphrynus dhufarensis)
Arabian Toad (Sclerophrys arabica)
Loggerhead Sea Turtle (Caretta caretta)
Green Sea Turtle (Chelonia mydas)
 Oman Rock Agama (Pseudotrapelus jensvindumi)
Egyptian Spiny-tailed Lizard (Uromastyx aegyptia ssp. leptieni)
Gallagher's Gecko (Asaccus gallagheri)
Baluch Ground Gecko (Bunopus tuberculatus)
Red Sea Leaf-toed Gecko (Hemidactylus robustus)
Gulf Short-fingered Gecko (Pseudoceramodactylus khobarensis)
Arabian Short-fingered Gecko (Stenodactylus arabicus)
Middle Eastern Short-fingered Gecko (Stenodactylus doriae)
Plate-tailed Gecko (Teratoscincus keyserlingii)
Hajar Rock Gecko (Trachydactylus hajarensis)
Orlov's Fan-fingered Gecko (Ptyodactylus orlovi)
Arabian Sand Skink (Scincus mitranus)
Schmidt's Fringe-toed Lizard (Acanthodactylus schmidti)
Hadramaut Sand Lizard (Mesalina adramitana)
Desert Monitor (Varanus griseus)
Schokari Sand Racer (Psammophis schokari)
Sindh Saw-scaled Viper (Echis carinatus ssp. sochureki)
Oman Saw-scaled Viper (Echis omanensis)
Many thanks to Gert Jan Verspui for providing valuable hints for our trip.