Africa has always had this magical effect on me. Ever since I was a small boy I was fascinated by this continent with its vast plains full of big mammals, its ancient jungles and adventurous allure. This year I finally went! Together with my more bird and mammal orientated friends Sander, Jasper, Dieuwertje and fellow reptile enthusiast Ronald we were discussing summerplans and I mentioned Africa. Jasper and Dieuwertje had been to Tanzania before but missed seeing several iconic mammal species. While looking for a destination where you can travel around safely by yourself, which offers a nice variety of chameleons (including my favourite species; the Meller's Chameleon) and plenty of other wildlife opportunities, I found out Malawi is the place for us. While researching more, we all became more and more enthusiastic about this country and booked our flights to Lilongwe.
Malawi harbours a total of 9 species of chameleon of which one is (nearly) extinct, one has been found once, one is hard to find in the dry season and one lives on the high altitude plateau of Nyika which is incredibly cold in the dry season and a looong drive. Hence we focussed on a total of five species of chameleon on our trip.

Malawi is called the Warm Heart of Africa and not without reason. Wherever you go people are friendly and polite and you are greeted with a smile. It is one of the most densely populated and poorest countries in Africa and poverty is omnipresent. Despite all this the roads are generally in a good condition, fuel, cash and food are in most places easy to come by and there wasn't a moment on the trip where we felt unsafe.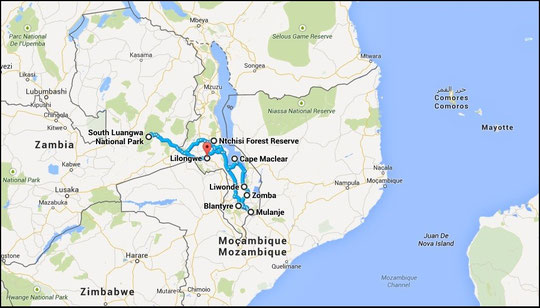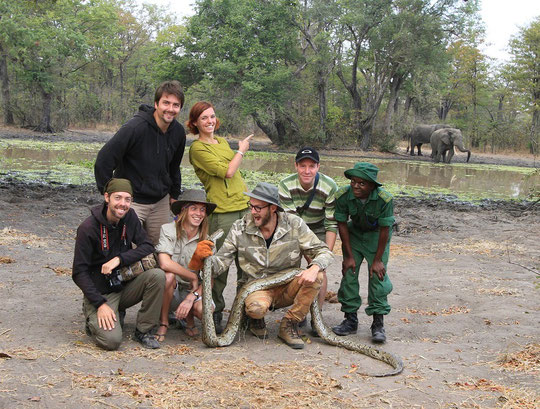 All images © Bobby Bok, Jasper Boldingh, Sander Schagen, Dieuwertje Smolenaars and Ronald Zimmerman.

In the late afternoon Ronald, Sander and I flew from Schiphol to Frankfurt and via Addis Ababa to Lilongwe were Dieuwertje and Jasper were already waiting for us as they already arrived a week earlier. After collecting the luggage and the small rental car we were on our way and drove south towards Blantyre. There we would spend the first night before finally starting our adventure at Mulanje. In Blantyre we searched in vain for chameleons. Restaurants close early here so we had to settle for a greasy pizza in the Malawian equivalent of the Pizza Hut.
The Mulanje Massif is part of a chain of steeply raised granite mountains known as inselbergs or "sky islands". While the surrounding landscape comprises mostly of dry miombo woodland, these mountains harbour evergreen and afromontane forests which are home to many endemic plants and animals. All reflections from a past when much of eastern Africa was covered with tropical forests. The highest peak of southcentral Africa is the Sapitwa peak of 3002m absl which belongs to the Mulanje Massif. These steep gradients offer a wide array of habitats ranging from miombo woodland on the lower slopes, lowland forests between 600-950m, mid-altitude forests between 900-1500m and afromontane forests above 1600m (Chapman 1991). Despite being a forest reserve little has been done to stop the illegal logging and firewood collection that is omnipresent on the mountain.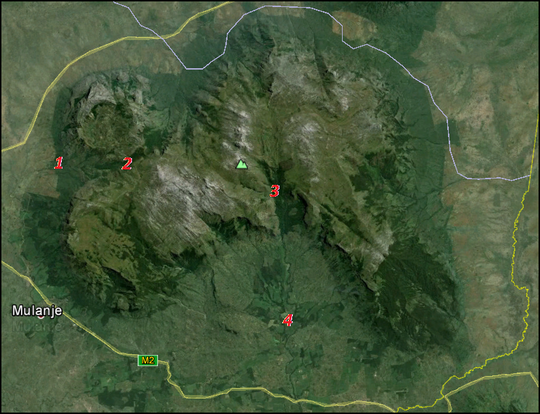 After a semi long drive from Blantyre we were all very eager to get into the field. After friendly telling the guides at the entrance of the forest reserve we would not need their help we drove on up the mountain. At the campground of the Likhubula Forest Lodge we would stay for two nights before venturing into the Ruo Gorge for two nights as well and come back for another night at the Likhubula Forest Lodge. After we put up camp we hiked into the Chembe bassin and soon spotted the first herps including the first snake of the trip, a Herald Snake (Crotaphopeltis hotamboeia) which was underneath a rock near a rainforest fragment.
Just about to hike deeper into the Chembe bassin a couple of the guides I spoke to earlier followed us and told us they found a "Kalilombe" as they knew I was looking for them. Well that was quick! I went down the mountain again and I was stunned to see what was there. My main reason to go to Malawi was already there on the first day of herping! The biggest and to my opinion most beautiful chameleon species on the African continent. I immediately picked up the Meller's Chameleon (Trioceros melleri) and was surprised to see how afraid the local people are of chameleons. I read about the fear of African people for chameleons but to see it in real life... They don't kill them here at Mulanje (luckily!) but they have a strange dose of fear for these beautiful creatures. The Meller's Chameleon is a typical species of miombo woodland and can be found high in Brachystegia trees. Luckily for us in the dry season they are easier to spot as many trees drop their leaves. Another species of chameleon which is typically found in this kind of habitat is the widespread Flap-necked Chameleon (Chamaeleo dilepis) which is usually found on lower perches such as small bushes between the trees or even tall grass. After a great first day of African herping we enjoyed the fabulous cooking at the lodge, found out that desserts in Malawi look like flamingo poo and taste awesome and fell asleep underneath a stunning starry sky.
The next day we hiked deeper into the Chembe bassin along with our guides Aubrey and Jackson who took us towards the big waterfall which is well hidden deep in the bassin. All day long we hiked and herped and found interesting species such as Sundevall's Writhing Skink (Mochlus sundevalli), Angola Green Snake (Philothamnus angolensis), the shy Yellow-throated Plated Lizard (Gerrhosaurus flavigularis) and the beautiful endemic Mitchell's Flat Lizard (Platysaurus mitchelli) foraging along big waterbodies much like their famous congeners do in the BBC's documentary Life in Cold Blood. The waterfall at the end of the hike was a great place for a refreshing dip and refreshing it was, so cold! At night we visited some ponds and an abandoned swimming pool, all within walking distance from the lodge and found several amphibians most notably Painted Reed Frog (Hyperolius marmoratus), Spotted Reed Frog (Hyperolius substriatus), Tinker Reed Frog (Hyperolius tuberilinguis) and Common Reed Frog (Hyperolius viridiflavus) which were making quite a bit of noise. The old pool was filled with nothing else but Common Platanna (Xenopus laevis), hundreds of larvae hanging motionless in the water and many massive adults lurking at the edges.

After two nights in the Chembe bassin it was time to explore a whole different part of the mountain. The SE part is prone to receive more precipitation due to its exposure to the Indian Ocean and even in the dry season conditions get more cloudy here with some Chiperoni precipitation. I was keen on getting into the Ruo Gorge where one of the last big blocks of indigenous rainforest is still standing and where the two endemic chameleons of Mulanje can be found. We arranged someone to watch our tents while we would go out and explore the jungle, someone to watch the car during our absence, we bought supplies at the local supermarket where they had special bread with tunnels in them and we were good to go. A silly roadblock with a policeman who demanded to be paid in footballs and driving through the tea plantages with piles of wood on the road costed us some time so late in the afternoon we arrived at the edge of the forest and shortly before sunset we could set up camp next to the river in the heart of the Ruo Gorge. We had dinner with stroopwafels and Snelle Jelles (Dutch powerfood) and not for long I found the first Mulanje Pygmy Chameleon (Rhampholeon platyceps). Ronald and I searched on into the night and I found 7 more. No sign of that other endemic chameleon species though... Interesting to see was that the perch hights of these tiny chameleons was highly variable, most were lower than a meter but a single animal was seen 5m off the ground. Before bedtime we climbed onto some big boulders in the riverbed and admired the most amazing starry sky I have ever seen.
The next morning we could finally get a good glimpse of where we were. A jungle as a jungle is supposed to look like. Trees towering high into the sky covered with epiphytic plants, vines and lianas, a rich undergrowth of ferns and mosses, a raging torrent sweeping through the gorge, lined with gnarled and twisted trees and fed by smaller streams. All this in the confinement of a gorge with almost vertical granite cliffs towering high above everything else. I fell immediately in love with this place. The weather however was less promising as it was cold and clouded so daytime activity of herps was limited to a few skinks. The forest itself is parched at this time of year, whenever you flip a log you find little more than dust. I can't imagine what herping here must be like in the rainy season! Still we tried our best and while most of the crew lingered around camp Ronald and I climbed to 1700m absl in an attempt to catch a glimpse of the huge waterfall but had to give up with the patch becoming close to vertical, night falling soon and running out of water. The night search was entirely dedicated to chameleons again, with most team members giving up soon Ronald and I moved on finding 5 more Pygmy Chameleons until I spotted a green unidentifiable little thing on top of the leaf of a vine about 4m off the ground. I decided to climb up and was so, so happy to see a stunningly beautiful Mulanje Chameleon (Nadzikambia mlanjensis) female coiled up on the leaf! Climbing down the tree I found that the jungle held another surprise for me as a male Mulanje Chameleon was sleeping 2m down. I just didn't see him while climbing up! Apparantly these chameleons like to sleep on vine leaves and choose higher perches than the Pygmy Chameleons. Interesting to see this couple sleeping so close together as well.
Back at the camp we tried our luck for amphibians and I saw another green unidentifiable little thing on top of a leaf. Sometimes it is good to be tall... This time an anuran I was badly wanting to see, a Yellow-spotted Tree Frog (Leptopelis flavomaculatus). Great! And what an amazing place to herp. By day with Samango Monkeys (Cercopithecus mitis moloneyi) and Silvery-cheeked Hornbills (Bycanistes brevis) are foraging in the dense canopy while at night the Mohol Bushbabies (Galago moholi) and African Palm Civets (Nandinia binotata) are looking down on you.

The next morning we tried to herp a bit more, we still had time because we were waiting for a certain football-obsessed policeman down the mountain to end his shift. But as it was too cold and dry we did not find much else. We did encounter a third Mulanje Chameleon crossing the path on our way down, in a rather disturbed part of the forest. Such luck!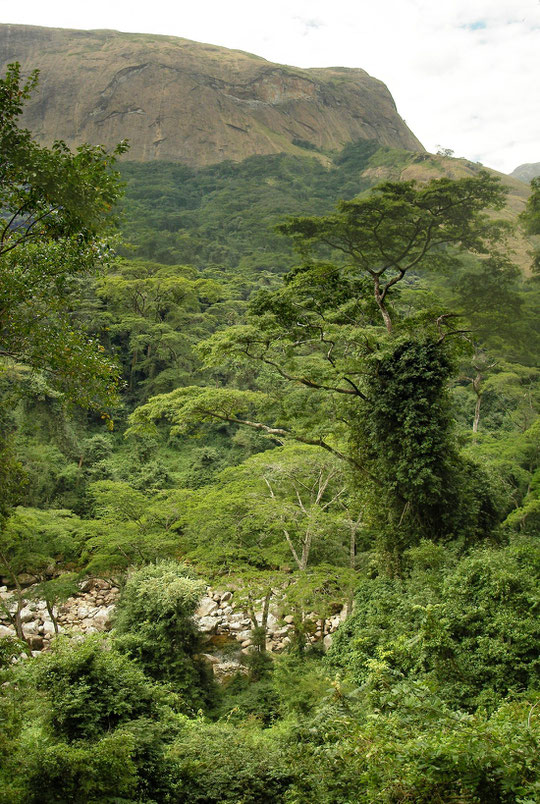 Our final night at Mulanje we slept at Likhubula but we did drive a bit back in the direction of Ruo because we spotted some great looking ponds at the Lujeri Tea Estates. Let's check them out in the evening! Again many Reed Frogs such as Painted Reed Frog, Spotted Reed Frog, Tinker Reed Frog and Common Reed Frog and another species of clawed frog, the Müller's Platanna (Xenopus muelleri). That last species bit me in the finger... Jasper spotted a tiny Red-legged Running Frog (Kassina maculata) climbing the grass in the pond. All in all a fine evening of frogging and again I would love to be back there when the rains start, must be amazing...
After Mulanje another big mountain was awaiting us but having seen the relatively unspoilt beauty of the Ruo Gorge we were slightly dissappointed with the scenery at the Zomba plateau. Large tracts of eucalyptus and pine plantations interspersed here and there by remnants of indigenous forest. Besides that, it was even colder here (close to zero at night!) and a strong wind made us regret even coming here. The forest did allow us to do some nice observations of bird and mammal but the herper has a hard time here in the cold, dry season. We decided to only spend one night here instead of the planned two nights and leave as soon as possible. We asked the people of the Trout Farm Campsite to give our money back which was of course impossible. Even after Jasper asked some strange questions to the British Students we encountered there... Something about shooting a movie??? During the drive down we did see a beautiful Meller's Chameleon crossing the road on lower elevation so at least there is one sweet memory of the Somber Plateau.
We initially thought of spending three nights here but the frisky conditions at Zomba drove us further north to arrive at Liwonde NP a day earlier. A good decision as Liwonde was a lil' wonder. Already when we arrived at the boat jetty waiting for the boat to take us to the camp we saw crocodiles, hippos, kingfishers and nile monitors. This is the Africa from the books I used to read as a child, what an abundance in wildlife! The only option to stay inside the park is at Mvuu Camp on the banks of the Shire river which drains Lake Malawi and flows into the Zambezi. From the terrace you have a view on the river with Hippos (Hippopotamus amphibius) resting, 4m long Nile Crocodiles (Crocodylus niloticus) practically at your feet, Vervet Monkeys (Chlorocebus pygerythrus), Warthogs (Phacochoerus africanus) and Nile Monitors (Varanus niloticus) patrolling around for an easy meal and Elephants (Loxodonta africana) distantly crossing the river. We engaged in several activities here such as game drives, boat safaris and walk safaris and had a blast. This park is much less frequented than others and a place of tranquility, especially compared to South Luangwa which we would visit later on. We had an amazing time here with Bushpigs (Potamochoerus larvatus) foraging around the tent, a close encounter by foot with two Black Rhinos (Diceros bicornis), great views on Bushbuck (Tragelaphus sylvaticus), Waterbuck (Kobus ellipsiprymnus), Impala (Aepyceros melampus), Sable Antelope (Hippotragus niger), Roan Antelope (Hippotragus equinus), Zebra (Equus quagga), Cape Buffalo (Syncerus caffer) and much more.
Birdlife was at least as plentiful and we enjoyed seeing large congregations of Lilian's Lovebird (Agapornis lilianae), a pair of Pel's Fishing Owl (Scotopelia peli) resting in a tree, a flock of African Skimmers (Rynchops flavirostris) foraging close to sunset with Sadle-billed Stork (Ephippiorhynchus senegalensis) and Marabou Stork (Leptoptilos crumenifer) patrolling the banks of the river, a huge flock of African Openbill Stork (Anastomus lamelligerus) flying overhead as they headed towards their roosting sites and much more.

Here we met people from Bat Conservation Africa and we helped them with setting up the traps to catch bats at night and collect tissue samples. A great experience and also a nice opportunity for us to be in the bush for a sundowner and stroll around a bit on foot.
Word got around quickly of course that we were looking for snakes. The morning we were about to leave we were woken up early as the guides had seen a Python on one of the morning drives. We quickly got in one of the jeeps and our new best friend Sebastian drove us to the waterhole, racing over the bumpy roads. When we arrived we saw two immensely big male elephants bulls drinking plus one immensely big Python at the waters edge... One of us was allowed to go with an armed scout out of the car and inspect the snake. That would be me. Slowly we got closer and closer to the elephants (which couldn't care less about our presence) and I already found it surprising the snake didn't move. When I picked it up: dead...! What must have been the highlight of my herping carreer soon turned into the saddest moment imaginable. The beautiful Rock Python (Python natalensis) measured well above 3m and was as impressive as it was beautiful. How it got killed - I have no clue...
The nature loving owner of the lodge was so happy to have a young crew of enthusiastic nature lovers in his camp so the final night we got upgraded and each got our own huge chalet. Not bad!
We arrived at Lake Malawi in the early afternoon and did little more than having a swim to catch Bilharzia and relax in the sun while our new friend Mike tried to sell us happy pants. He would be there every day. When we woke up and opened the door of the dorm he would greet us happily: "Remember me? It's Mikey!". I tried to explain him that we are not suffering from dementia and already are very happy people in no need of happy pants, all to no avail. Anyhow, on our first night in the Fat Monkeys Lodge we encountered the obligatory toads and geckoes and even a beautiful House Snake (Boaedon fuliginosus). Ronald and I did some roadcruising through the national park but had no succes. We did get lost in the slums of Cape Maclear which was an interesting experience on itself...

The first full day at the lake we arranged a boat to take us to Domwe Island which is almost entirely uninhabited and part of the National Park Lake Malawi. The steep granite slopes were challenging to walk but harbour a wealth of wildlife such as Rock Hyraxes (Procavia capensis), several skink species including the pretty Bronze Rock Skink (Trachylepis lacertiformis) and the third biggest lizard of the African continent, Giant Plated Lizards (Gerrhosaurus validus). I had no clue they were this big, massive bulky lizards that bask on hard to reach places and launch themselves in the bushes as soon as you spot them. The hot afternoon was spent snorkeling in the crystal clear water watching the famous vividly coloured cichlids.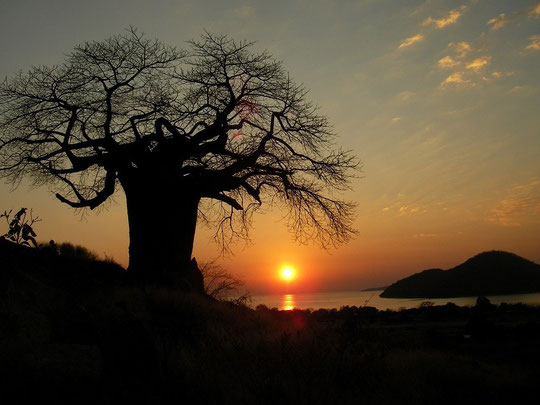 On the long, long way to the Ntchisi Forest Reserve on roads which are marked as highways but are in fact unpaved dirt tracks Dieuwertje spotted a Flap-necked Chameleon from the driving car and earned respect from all of us. A quick photosession followed. Late in the afternoon we arrived at the Ntchisi Forest Lodge, put up our tents, drank a beer to celebrate our arrival and headed into the beautiful (but again very dry) rainforest. After it got dark I could quickly find three of the endemic Nchisi Pygmy Chameleon (Rhampholeon nchisiensis) before dinner. We stayed three nights here and every evening we had an amazing three course dinner. The evening programme was roadcruising through the forest, driving to higher altitude where the hiking trails start, an evening of chameleon searching in the cold and windy rainforest and shivering yourself to sleep in the tent. The leaf chameleons were plentiful and on three evening searches we found 17 individuals including a single juvenile. On three occasions we found a couple in close proximity to one another and perch heights varied between 0,5 and 3m with most adults below 1m. The juvenile was just 10cm of the forest floor on a dried out fern. The day searches did not yield much, some skinks, a Yellow-throated Plated Lizard, a Dwarf Whip Snake (Psammophis angolensis) and a DOR Common Wolf Snake (Lycophidion capense). A beautiful place but again we should visit in the rainy season to see its true colours.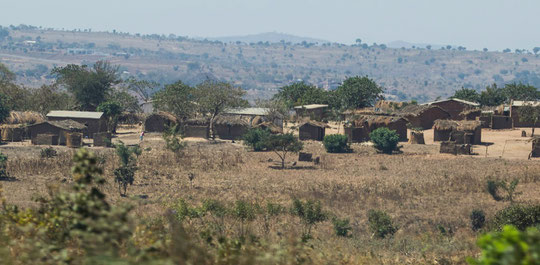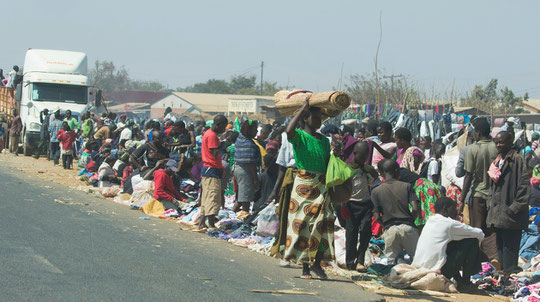 Our final stop on our trip, the famous South Luangwa National Park in Zambia. A lengthy drive to reach it but mostly due to a border crossing which costed us time, money and nerves. Zambia is wealthier than Malawi and we immediately found out why as they wanted money for a visa, for the rental car insurance, emission taxes etc. so quite a few dollars poorer we left the border.
We stayed at the Marula Lodge which is owned by the very friendly Mike and Jenny. The Lodge is set on the banks of the Luangwa River and from our tents we could look upon a river where hippos, crocodiles and elephants are a common sight. Our routine here was getting up at 5:30 for tea and breakfast, do a gamedrive, come back for lunch, look around the lodge for small wildlife/have a dip in the pool, late afternoon gamedrive, dinner, beer and time for bed.
During our stay here we had fantastic sightings such as three Leopards (Panthera pardus) playing together while Spotted Hyenas (Crocuta crocuta) slept in the bushes nearby. Small family groups of Luangwa Giraffes (Giraffa camelopardalis thornicrofti) with youngsters running and prancing around were a common sight as well. A cheeky young Lion (Panthera leo) male was scanning everyone in the car until his eye dropped on Ronald which he thought worthy enough to get up for and have a close inspection. Only the engine of our jeep starting could make him change his mind... Elephants were a common sight every evening in the camp were they would munch down on branches of the well watered trees around the pool. To see the biggest land mammal in the world looking down on you from a meager 3m distance is something special.
Birdwise the Southern Ground Hornbills (Bucorvus leadbeateri) were a highlight for me, these prehistoric looking birds were majestically strolling around looking for a meal and on one occasion we saw one devouring a snake... We only found two snake species here, both around the camp: a small Green Water Snake and a pretty Eastern Bark Snake (Hemirhagerrhis nototaenia). The Foam Nest Frogs were plentiful here and every shower was done by the approving glance of small amphibians hiding in the walls.

The border crossing from Zambia to Malawi went a whole lot smoother and soon enough we were back in the vibrant capitol of Malawi. We stayed at the lively Mabuya Camp in a dorm for a small amount of money. In the evening we played some pool, had a few beers and were lured into a pick-up truck by four Dutch students that we met in the camp. The pickup truck brought us to a place with typical African music so we danced all night on pounding techno music.
The next morning we didn't notice anything of the previous night! After a touristy route through Lilongwe we drove to the airport and said farewell to this amazing country. With one tropical disease richer and two luggage pieces poorer we arrived safe and sound back on Dutch soil.

Epilogue
My first time in Africa and I loved every minute of it (except maybe the border crossing). The smells of charcoal and dust in the evening, the sounds of drums and singing people by night in the rural areas. How you are greeted with a smile and how pleased people are to be of any help. To look for chameleons in stunning rainforests and the sheer wildlife bonanza in the national parks. Very addictive!
That said, the moment we visited Malawi and Zambia was the colder dry season. This means most birds and mammals are easier to spot but for the herper this means hard work. In general I had a hard time finding amphibians and reptiles. The higher altitude rainforests were incredibly dry and cold, the lower plains were dry and hot. Additionally, the national parks are hard to herp because it is not wise to travel by foot in an area were hippos, elephants, lions or leopards might be lurking in the bushes. Things are incredibly seasonal in Southern Africa and as I wrote several times before, the places we visited must be amazing during the rainy season. Luckily my main targets the chameleons were out in good numbers and in total we found 37 individuals divided over 5 species. Snakes however were far from plentiful and I will travel back one day to see much more of the diversity this amazing continent has to offer.

Time is ticking however and much (if not all) of the remaining forests of Malawi (and many other parts of Africa) are under immense pressure of the ever encroaching human population. It is saddening to see these ancient forests being turned into firewood and make way for agricultural land. Krystal Tolley wrote some inspiring blogs on the topic from neighbouring Mozambique.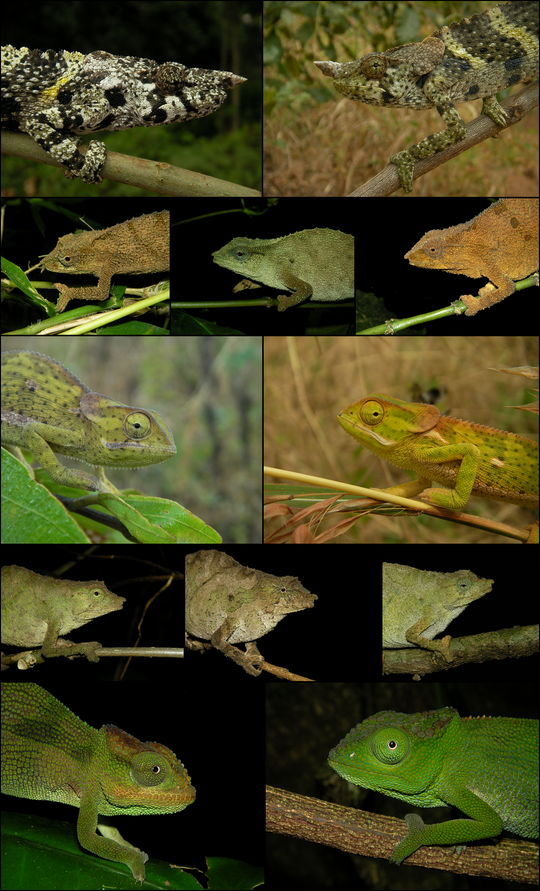 Species
Guttural Toad (Amietophrynus gutturalis)
Flat-backed Toad (Amietophrynus maculatus)
Angola River Frog (Amietia angolensis)
Shovel-footed Squeaker (Arthroleptis stenodactylus)
Dwarf Squeaker (Arthroleptis xenodactyloides)
Red-legged Running Frog (Kassina maculata)
Plain Grass Frog (Ptychadena anchietae)
Dwarf Puddle Frog (Phrynobatrachus mababiensis)
Snoring Puddle Frog (Phrynobatrachus natalensis)
Leaf-folding Frog (Afrixalus crotalus)
Painted Reed Frog (Hyperolius marmoratus)
Spotted Reed Frog (Hyperolius substriatus)
Tinker Reed Frog (Hyperolius tuberilinguis)
Common Reed Frog (Hyperolius viridiflavus)
Southern Foam Nest Frog (Chiromantis xerampelina)
Yellow-spotted Tree Frog (Leptopelis flavomaculatus)
Common Platanna (Xenopus laevis)
Müller's Platanna (Xenopus muelleri)
Serrated Hinged Terrapin (Pelusios sinuatus)
Nchisi Pygmy Chameleon (Rhampholeon nchisiensis)
Mulanje Pygmy Chameleon (Rhampholeon platyceps)
Mulanje Chameleon (Nadzikambia mlanjensis)
Flap-necked Chameleon (Chamaeleo dilepis)
Meller's Chameleon (Trioceros melleri)
Kirk's Agama (Agama kirkii)
Turner's Tubercled Gecko (Chondrodactylus turneri)
Chobe Dwarf Gecko (Lygodactylus chobiensis)
Cape Dwarf Gecko (Lygodactylus capensis)
Moreau's Tropical House Gecko (Hemidactylus mabouia)
Flat-headed Tropical House Gecko (Hemidactylus platycephalus)
Sundevall's Writhing Skink (Mochlus sundevalli)
Wahlberg's Snake-eyed Skink (Panaspis wahlbergii)
Boulenger's Skink (Trachylepis boulengeri)
Bronze Rock Skink (Trachylepis lacertiformis)
Rainbow Skink (Trachylepis margaritifer)
Striped Skink (Trachylepis striata)
Variable Skink (Trachylepis varia)
Yellow-throated Plated Lizard (Gerrhosaurus flavigularis)
Giant Plated Lizard (Gerrhosaurus validus)
Mitchell's Flat Lizard (Platysaurus mitchelli)
Rock Monitor (Varanus albigularis) DOR
Nile Monitor (Varanus niloticus)
Nile Crocodile (Crocodylus niloticus)
Peters' Worm Snake (Leptotyphlops scutifrons)
Herald Snake (Crotaphopeltis hotamboeia)
Eastern Bark Snake (Hemirhagerrhis nototaenia)
House Snake (Lamprophis fuliginosus)
East African Shovel-snout (Prosymna stuhlmannii)
Angola Green Snake (Philothamnus angolensis)
Green Water Snake (Philothamnus hoplogaster)
Spotted Bush Snake (Philothamnus semivariegatus)
Dwarf Whip Snake (Psammophis angolensis)
Western Stripe-bellied Sand Snake (Psammophis subtaeniatus)
Common Wolf Snake (Lycophidion capense) DOR
Mozambique Spitting Cobra (Naja mossambica) DOR
Southern African Rock Python (Python natalensis) DOR
Many thanks to Gary Brown, Don Broadley, Cliff Buckton, Werner Conradie, Nick Evans, Hans Christoph Liedtke, Johan Marais, Stephen Spawls, Colin Tilbury and Krystal Tolley for providing valuable intell and helping with species identification.